Start a successful Online Business
Do you want a legitimate way to build a successful online business?
People are spending 2,700 hours a year trying to figure out how to make money online and are still failing.
The reality is that most people just don't know where to start and end up either stuck on their first website.
You are in the right place because I'm here to help you succeed and scale your business.
But Who Am I?
I'm Muslimah. an affiliate marketer, business consultant, and entrepreneur.
I initially worked as a project manager for over ten years on various projects where I interacted with many professional teams.
But as a mother with young kids, I yearned for an opportunity to spend more time with my young family.
So one day, while searching on the internet for online business ideas and came upon Wealthy Affiliate's free training courses.
If you are like me, always careful to part with my money, I was skeptical and thought, can this be one of those online scams? 
However, I decided to opt for the free training.
After all, no credit card was required; it was free. So I jumped on it, and WOW! I was surprised to get so much to learn for free.
I went through step-by-step training, which was the gateway to my online business.
Thus, I decided to teach and help people like you start their own online business the easiest way without so much hassle.
Here's a sneak into how the program works;
4-Step Proven Process 

Step 1: Choose a profitable and evergreen Niche
Pick a profitable field of interest you like.
What do you enjoy spending your time on mostly?
What do people usually ask you about such that they feel you have the solution to that problem.
Start building your business from what you know.
Here are sample niches you may like
Parenting
Self-improvement
Fitness and weight loss
Personal Finance
Pet Care
Gadget and Technology
Beauty
Travel
Relationships
Step 2: Set Up Your Website in minutes
The next step is to build your website.
Remember that you don't need to be tech-savvy or behave any special skill to start.
If you are building a website for the first, I suggest going for the free domain to help you understand how the process works. 
Otherwise, it's best to buy your own domain straight to get your business on the right track.
Step 3: Drive massive traffic To Your Website.
Here, you will learn to generate free traffic to your website from search engines by writing valuable content, SEO, keyword research, etc.
Step 4: Earn passive Commission
Now that you have some traffic, it's time to monetize your website.
There are many ways to make money from your website, but Affiliate Marketing remains one of the most effective. 
The good thing about this online business is you don't have to create any product yourself.
Instead, you promote other people's products and earn a commission when anyone buys through your affiliate links.
In addition, you will learn how to join various affiliate programs and earn income by promoting high-quality products from big brands like Amazon, ClickBank,  ShareASale, etc. 
However, there are different memberships depending on your business goals.
Good enough that you can test drive the training to see if it suits your need.
Here's what you get for FREE when you join the training
Stater Member (Free $0)
Certification Core Training Level 1
Bootcamp Core Training Level 1
1 Free website
Hosting Security Suite
Free SSL
7 Days 24/7 Live Help
7 Days Personal Blog
Seven days of expert and community support
Click Here To Get Started Free.
However, if you like the value you receive from the training for FREE, you may want to join the premium training. 
Here you get access to a free domain and advanced features to help you build a successful and sustainable business.
Premium Membership ($49/month)
Free Domain
50 Lessons Certification Core Training
70 Lessons Bootcamp Core Training
1000+ Training Modules
52+ Expert Classes/Year
Fast and reliable hosting
5 responsive WordPress website
Free SSL
Website Builder
Affiliate program research
Jaaxy keyword research
24/7  Site and Community Support
Unlimited Keyword Searches
Domain Availability Search and more.
Premium Plus ($99/month)
2 Free Domain
50 Lessons of Certificate Core Training
70 Lessons Bootcamp Core Training
200+ Expert Classes per Year
10 Premium Websites
Website Builder
Daily Backup
24/7 Site and Community Support
Jaaxy Enterprise
Unlimited Keyword Searches
Automated Domain Availability Search
Affiliate Program Search and more.
Join the Premium Plus Training
How to register for the Training
Visit the Wealthy Affiliate website
Input your name and email address
Set up your  profile
And jump straight to the free training
I'll also reach out to you in case you have any questions.
If you are ready to start your own online business, join the free training today; no credit card is required.
What People Say About The Training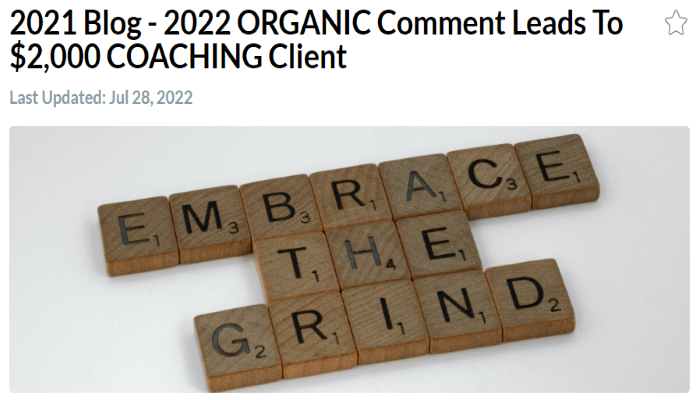 If you're looking for a legitimate, affordable way to create high-quality, income-producing websites and you don't want to spend years learning everything, there is to know about all the powerful software, tools, and techniques of being online.
Why not join influential and budding entrepreneurs, small business owners, and full-time professionals who are on top of their game when it comes to earning money online?
They've made it possible for you to leap-frog their successes, learn from their failures and achieve your dreams in a fraction of the time.
Take advantage of the Wealthy Affiliate Black Friday Deal 2022 from Nov 25th to 28th at more than 50% off.