You have heard that anyone can start affiliate marketing with no money. But have no idea how to begin.
Affiliate marketing is a booming business right now. Statistics show that more than 80% of brands have affiliate programs, with the USA topping the list with a 39% share.
The statistic is enormous if you ask me. Wouldn't you like to be part of this business?
The great thing about this type of business opportunity is that you don't need any money to start earning as an affiliate marketer.
Hence, this guide will show you all available options you can use to start your affiliate marketing business with no money.
Let's dive in.
Affiliate Marketing and how it works?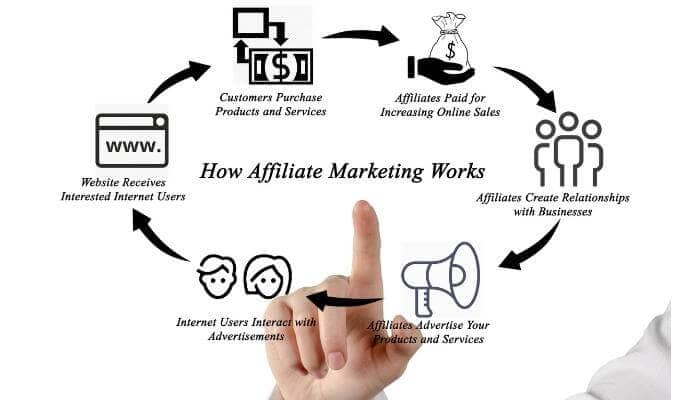 Affiliate marketing is a way of earning commissions by promoting other people's products. You find a product you like, promote it to others and earn a piece of the profit for each sale that you make.
Then, you will receive a unique affiliate link to promote the product or service. Then, every time someone makes a purchase using your link, you'll earn money.
There are basically
Choose your niche
Sign up with an affiliate program
Get your unique affiliate link
Recommend products to your audience through your blog or social media.
Get a commission when you make a sale by a customer clicking on your affiliate links.
Is Affiliate Marketing A Good Business Model?
Yes. And there are many reasons why affiliate marketing is a lucrative business that requires no capital to start.
No inventory or Warehouse
You don't have to buy or store any products yourself, and you don't need to ship anything out. The company whose product or service you are promoting handles everything for you.
Flexibility
There's no restriction to where you work, you can start from anywhere in the world. in addition, you have the freedom to choose your working hours because you are your own boss.
No earning limit
It's possible to generate high income with time. There's no limit to how much you earn as long as you are focused and consistently promoting your products. If you join high-paying affiliate programs, you will earn a high income.
No risk involved
Unlike other businesses, there's no risk attached. So far, you will succeed in putting in the necessary effort and time.
Though affiliate marketing is a fantastic way to keep your working hours flexible and earn extra income, it isn't a get-rich-quick scheme.
Building your bank account takes time, patience, effort, and consistency.
Who Is Affiliate Marketing For?
Affiliate marketing is for anyone looking to make extra income online by building a sustainable business. Good enough, you don't need any special skills to start and can work from anywhere.
However, keep in mind that it's not a quick way to success. But if you can put in the time and work, you will see a massive return.
6 Proven Steps to start affiliate marketing with no money
Step 1. Find a profitable niche that isn't too competitive
The first thing you'll need to do is choose a field of interest to you and one that will also be profitable.
There are several ways to find niche ideas. Still, the best niches often have low competition or are not yet recognized by the mainstream market.
You can brainstorm for hours or use an automated tool for help finding one.
However, when choosing a niche, try to think of products or services that will have consistent demand. It will make it easier for you to market your business in the future.
Determine your niche market before starting an online business at home or anywhere else.
Having a niche market allows you to be more targeted in marketing and operations, making it easier to grow and maintain success over time.
In addition, being more targeted allows customers to find you with ease on the Internet, making it easier for them to make their purchase decision.
Step 2. Join Relevant Affiliate Programs
Search for programs that offer products your target audience will be interested in.
The best way to start is to join affiliate networks, which allows you to add a link to your site. That takes customers directly to the seller's page without any upfront costs.
Most of these networks are free to join and include top brands like
And many more.
Other ways are to look at Google Trends, run a survey on social media, or apply to individual affiliate programs.
Related article; high-paying affiliate programs for beginners.
However, it's essential to find out all necessary information about any product before promoting it. For example, you want to know,
The commission rate
If there's high demand for the product
Customer reviews
Step 3. Determine Your Source Of Traffic
The most important thing in affiliate marketing is having the right audience. Whether you promote affiliate products through your blog or social media, you need people to buy them.
If you already have followers who may be interested in what you have to offer, then this is an excellent place to start.
However, consider building one from scratch if you don't have an audience yet.
You can create content on social media or write blog posts relevant to your niche.
How To Start Affiliate Marketing On Social Media Platforms
Start affiliate marketing on Twitter
Due to its high usability and simple learning curve, Twitter is one of the best social media networks to start affiliate marketing on. In addition, it has about 217 million daily active users.
The first thing you'll want to do is create a free Twitter account if you don't already have one.
Once your account is set up and confirmed, it's time to set up your first tweet.
Start by logging into your account, clicking the "New Tweet" button near the top right corner of the screen, and typing in some text that describes your product or service.
You can also include a link to your website or blog if you have one.
Next, find popular posts by other content creators in your niche and include their links within tweets.
Make sure that these links are valuable to your audience and lead them back to pages that convert them into customers.
In addition, use trending hashtags relevant to your niche when tweeting out your to gain more followers and increase conversions from sales.
Related article – How to make money on Twitter
Start Affiliate Marketing On LinkedIn
LinkedIn is a professional platform used by professionals who are more ready to make purchases and even pay a premium for a product or service.
The key to affiliate marketing on LinkedIn is to share valuable and relevant content with your audience. If they benefit from what you promote, they will return for more.
Share posts that add value – don't just post affiliate links all day long. If you have a personal profile, use it to share relevant information and not just to promote your affiliate products.
Connect with your followers – when you connect with your followers, it builds trust and rapport. That will lead them to buy from you because they know you personally and like you.
Use the Groups feature – join groups where your target audience is hanging out, then share valuable content and your affiliate links.
Don't spam – spamming the groups or people's inboxes with affiliate links will get you banned from the platform.
Start affiliate marketing on Pinterest
Pinterest is one of the hottest sites on the web today. It's a place where you can find beautiful, engaging, and valuable things.
If you have a solid collection of pins, you could be raking in some serious cash with your skills.
The first is to sign up for a free business account. Then, create high-quality images with free tools like Canva and start posting them on your page.
You can create content that includes affiliate links in the text or at the bottom of the pin or promotes other people's products.
However, remember to link to your website, so the audience gets more information about the product.
Related article – How to make money on Pinterest without a blog
Start Affiliate Marketing On Facebook
With over 2.8 billion monthly active users, Facebook is the largest social media platform globally, making it an excellent place to start affiliate marketing.
You can use Facebook to promote new products and services to your target audience.
However, the first step in any successful Facebook marketing strategy is to build a Facebook page for your business.
So, log into your personal Facebook account and select the option to create a new Facebook page.
Then, include a brief description of your business and its products, links to your website, blog, and other relevant content.
After that, invite everyone on your contact list to join your page right away.
And once they join, they'll be able to invite their friends too, which is exactly what you want them to do.
Next is to share your content regularly on your page and engage with your followers. Make sure that you share valuable content that makes them want to click on the link.
However, ensure that you are ready to provide customer service when needed and give quick responses to messages received.
Start affiliate marketing on Instagram
With over 1 billion active users, Instagram is a great platform to start a viable business.
There are many ways to start making money from your Instagram account without spending any money.
Focus on attracting visitors to your profile, getting them to follow you, and hoping they'll click through to your website.
From there, you can redirect them towards the product or service that you're promoting.
For example:
Let's say you really like watches and want to promote them. You'd share photos of yourself wearing some on Instagram. Add a caption explaining how much you love the watch and the features that make it unique from others.
Then ask people to click a link in your bio to learn more about it.
However, remember you can only use one link. Hence, you may need to use software like linktr.ee if you want to include more links in your bio.
Remember, you want to build trust and credibility, so focus on promoting only valuable products.
Whatsapp Marketing
As a marketer, you can't afford to ignore Whatsapp as a marketing channel. Not only because it's the most popular messaging app worldwide with over 2 billion active users but also because of the unique features that make it an effective marketing platform:
It's free to use.
Whatsapp has a high user engagement rate, with 98% of users checking their accounts at least once per day.
 It's easy to use and accessible to everyone.
In addition, the platform offers business-friendly features like its new Status feature, which allows businesses to share messages, photos, videos, and animated GIFs that disappear after 24 hours.
This feature is perfect for giving your customers teasers with discounts or promotions and anticipation around your brand.
However, it's best to create a Whatsapp business account. So download the app.
Then, write a detailed description of your business, including the name, phone number, email, and website if you have one.
Then create a Whatsapp group and share the information with your friends and fans. You can now organize free training, teaching a particular skill.
Also, share valuable information and freebies. Finally, at the end of the training, promote your affiliate products and tell them to reach out to you.
Here's detailed training on Whatsapp marketing; 72IG Whatsapp income generator training program.
Step 4. Create content that converts
Once you have found an affiliate program and built an audience, the next step is to create content that will convert into sales or leads.
You can do this by promoting one product with multiple posts and linking back to your website or blog where people can learn more about the product and purchase it.
Examples include; list posts, how-to-posts, in-depth reviews, etc.
However, remember not to spam the whole of your content with affiliate links, only include them where necessary.
Step 5. Build Your Email List
Engage more with your audience by growing your email contacts—the first thing to sign up with an email service provider like Aweber.
Then give out free items to increase the chance of having more people on your list. Examples are digital products like ebooks, checklists, cheatsheets, planners, etc.
Step 6. Don't Stop Learning
One way to move ahead of competitors is to get accustomed to new trends and technology.
Though affiliate marketing is an excellent way to make money online, it can be very competitive. Therefore, it's necessary to join relevant training programs to boost your experience and learn from others' mistakes.
Want to learn about affiliate marketing? Join the free training.
Start Affiliate Marketing With No Money FAQS
Can you still start affiliate marketing with no money?
Yes, you can. The good news, you don't need to pay to join most affiliate programs. All you need is the internet, a phone or computer, and the determination to put in the effort and time.
How much money can you make from affiliate marketing?
The amount of money you can make from affiliate marketing will depend on your niche, the number of followers, and how well you convert them into customers.
For example, you could have 100,000 followers, and only 1% of them click through to buy your product, then you'll only make 1000.
So, conversion is more important, even if you have just a few audiences.
Can you quit your job to start affiliate marketing?
No, not from the beginning. Affiliate marketing indeed is one of the best ways to earn income online.
However, it's not a get-rich-quick model. So, keep in mind that it may take up to 3 months or more to see tangible results.
But, of course, you can earn a consistent income with time and then decide if you still need to retain your job.
Conclusion – How to start affiliate marketing with no money
There you have it. You know it's possible to start your own affiliate marketing business with no money now.
And that you don't necessarily need a blog to start. All you need is to build a solid following on social media, share valuable content, and market your affiliate products to them.
However, like many other forms of online marketing, affiliate marketing is not as simple as it sounds.
You want to make sure that your product offers are compelling enough to get people interested in clicking through them.
In addition, you need to keep your eyes open for the best offers that will attract the right customers.
However, if you take time to plan what you will sell and how you will market it, you will find success earlier.
And once you get started with this type of promotion, it can pay off handsomely for you in the long run.
Also, keep in mind to build your own website with time. It will give your business a better image and increase your conversion rates.
And if you have any questions, please leave them in the comment below.
SHARE THIS POST WITH YOUR FRIENDS!