Wealthy Affiliate is a training ground that teaches people how to start a successful online business with affiliate marketing and content creation.
Many people join affiliate programs with incorrect expectations of getting rich quickly. But of course, starting a successful online business takes time, effort, and patience.
With so many affiliate marketing training programs out there, it might not be easy to recognize credible ones.
So, why are wealthy affiliates different from other affiliate programs out there?
There are no promises about getting rich quickly or making millions with Wealthy Affiliate.
Instead, the emphasis is on writing high-value content that creates authority and engages people with your website.
In this review, I will walk you through everything you need to know about Wealthy Affiliate. You can then decide if the wealthy Affiliate is a good option for you.
This post contains affiliate links, which means I may earn a commission if you purchase through the link. But don't worry, It's at no extra cost to you. Thank you. For more information, please read my disclosure page. 
Wealthy Affiliate Review: Key Features, Pricing, Pros & Cons
What Is Wealthy Affiliate Exactly?
Name: Wealthy Affiliate
Owners: Kyle & Carson
Website URL: www.wealthyaffiliate.com
Price: Starter Member ($0), Premium Membership ($49) 
Wealthy Affiliate is a training program that teaches people how to start a successful online business with affiliate marketing and content creation.
The results-driven step-by-step training can help you realize your dreams of starting a successful online business, even as a beginner. 
Good enough, you can start for free.  You get access to step-by-step training that will serve as the foundation of your online business and then decide if the premium level is worth the value. 
How Does Wealthy Affiliate Work?
Membership
a. The Starter Level (Free)
Here, you have access to limited training modules and classrooms. You will learn how to build your affiliate marketing website.
If you get to worry about anything coding like me, I bet you can build your website in a few minutes without coding.
You will have access to website-building tools that will help you develop the best design for your business.
Other benefits you will get include.
Life 24/7 community support (for 7days)
Free SiteRubix domain website
Training classrooms
Keyword research tool
B. The Premium Level ($49/month)
The premium membership gives you access to unlimited training materials and tools. Other benefits include:
Life 24/7 community support (complete)
Network with experts
Integrated training help
Website backups
WordPress optimized hosting (host up to 25 websites)
No autoresponder and hosting fees
Training Courses
If you are new to affiliate marketing and wish to start a successful online business, the training program will help transform you into a successful affiliate marketer.
a. The Online Entrepreneur Certification
This free training has five classes. You will learn how to create your website, pick a niche, do keyword research, content writing, and how to make money.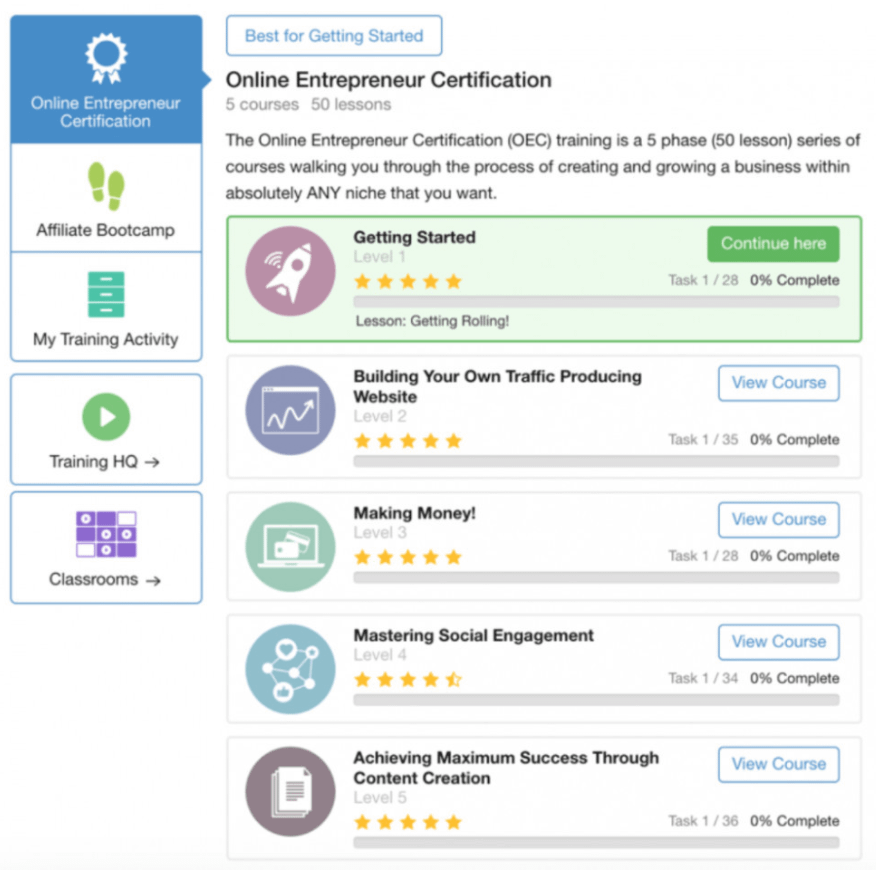 b. Affiliate Boot Camp Training
Next is the boot camp training basically for people who have a tough time choosing what product to promote.
There are seven video classes in a step-by-step format.
The courses here focus on how you can make money by promoting the wealthy affiliate platform.
Also included in the training are the weekly interactive live video classes and technical support.
Community Help (24/7)
Most fascinating is the community support, which seems to lack in most online marketing programs.
You will have adequate expert and community support throughout the training. Within the wealthy Affiliate are other avenues to get help like
Live chat
Comments
Private messaging
Website and Hosting
You can build a free website with SiteRubix website builder with no skill or technical knowledge in less than a minute.
You will also have access to affordable website hosting, easy WordPress installation, and daily website backup.
Keyword Research Tools
Jaaxy is an advanced keyword research tool to help you find exact keywords that people use when searching online.
You can use the information to create content that will attract visitors to your site from the search engine.
Below is a video walkthrough of how Wealthy Affiliate works.
Pros and Cons
Pro
Step-by-step beginner's friendly training
Comprehensive training material
Live chat feature
Active community support
Weekly live webinar classes
Cons
Limited training courses for starter
Some of the training needs to be updated.
It can become overwhelming as the training advances.
Steps to Earn Revenue 
Step 1: Here, you choose a niche based on your passion and what you enjoy doing most as you'll have to write content positioned towards your interest. 
Step 2: Then, you build a website in your niche. To make money in affiliate marketing, you need a website.
You can have a professional-looking website running in a few minutes, even if you don't know how to code.
With Wealthy Affiliate, you will access the most sophisticated website and hosting platform with daily backup.
Step 3: Here, you learn to get traffic to your website through SEO and write valuable content.
Step 4: Once you have people getting value from your content and frequently visiting your site, you can earn a commission by promoting niche-related products. 
How Much Money Can I Make With Wealthy Affiliate?
The simple answer is no one can determine the specific amount anyone can make.
It depends on your niche and the amount of work you are ready to put in.
You may make money within 3 -6 months if you follow the training step by step and implement everything you learned.
Wealthy affiliate guides you on building your own website from scratch for free, having good web hosting, and finding affiliate programs to promote.
Here are a few success stories of members making it big time with wealthy affiliate.
The key here is to provide consistent value to people. Start with solving problems first; take time to understand their needs, then position your content to provide an effective solution to them.
Though wealthy affiliate will assist you in reaching your goals, your success depends primarily on your effort, motivation, and commitment throughout the journey.
Frequently Asked Questions
Q: How much does Wealthy Affiliate cost?
A: The course is free for the starter and $49/month for premium membership.
Q: Can I join wealthy Affiliate as a beginner in online business?
A: Yes, wealthy affiliate is best suited for beginners who are new to affiliate marketing and are ready to start their own online business.
If you follow the training and practice what you learned, you can gain enough experience to start your own affiliate blog.
Q: Can I really make money with Wealthy Affiliate.
A: Yes, but just like any affiliate program out there, it takes time, effort, and commitment to get tangible results.
Q: How fast can I get help with my website when I need support?
A: You can get help within a twinkle of an eye through 24/7 community support, live chat, ticket, and you can also post your question.
Be rest assured you will get the issue resolved quickly.
Q: Is Wealthy Affiliate the best affiliate marketing training available?
A: Yes, wealthy affiliate is the best option for beginners and entrepreneurs who have no previous knowledge of the online business.
But of course, there are other alternatives out there.
Conclusion
Even though affiliate marketing is a lucrative way to make passive income, it takes time to see tangible results.
There is so much misinformation about affiliate marketing, but you may start your own affiliate marketing business quickly when the process is done correctly.
If you are ready, join other successful online marketers inside the Wealthy Affiliate and Me.