Affiliate marketing is a lucrative way to generate passive income. It does not require you to create products or invest any money upfront.
So if you want to start making money online, affiliate marketing is one of the easiest ways.
However, there is a lot of misinformation about what to do and what not when starting with affiliate marketing.
Here are the answers to the most frequently asked questions you need to know to help you start on the right track.
Let's dive in.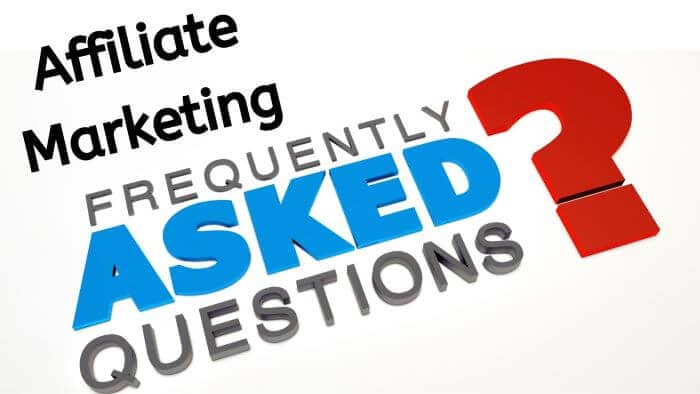 1. What Is Affiliate Marketing?
Affiliate marketing is a process that allows an individual to earn money by marketing products and services offered by other businesses.
For example, suppose you have a home improvement blog. In that case, you can promote tools, appliances, and other things related to home improvement on your blog.
And, when visitors click these links and buy the recommended products, you earn a commission.
However, the commission varies depending on the affiliate network and advertiser but usually ranges between 3% and 50%.
2. How does affiliate marketing work?
There are six distinct steps:
Step 1: Sign up with an affiliate network
Step 2: Add your unique link to your blog or social network.
Step 2: Attract visitors to your content.
Step 3: Customers click your affiliate link
Step 4: Merchant confirms the sale
Step 5: You receive a commission for the sale
3. How can I get started with affiliate marketing?
You don't want to be selling something that everyone else is already selling, so pick something you feel strongly about.
Find a profitable product to promote
You can find products with good reviews on Amazon or any other affiliate network such as ShareASale and Clickbank.
Build a website around the product if possible 
Having a web presence will make it easier for you to sell the product. You'll also get more traffic by promoting it through SEO, social media, and email marketing campaigns.
Sign up for an affiliate program (or two)
You can join free affiliate networks like Amazon, Clickbank, ShareASale, and more.
In addition, there are thousands to choose from; however, it's important that you choose one that suits your niche and the traffic source.
Once you've found a program that suits you, you must sign up for an account and get your affiliate links. It usually takes around 24 hours to complete.
Then, start promoting their products and services through your blog or social media channels.
4. Who are the parties involved in affiliate marketing?
The industry has four core players:
The merchant (also known as 'vendor' or 'brand').
The network (that contains offers for the affiliate to choose from and takes care of the payments).
The publisher (also known as 'the affiliate').
The customer.
The merchant, also known as the advertiser, is the company that sells the products or services.
The network acts as an intermediary between publishers and merchants. It allows publishers to easily find and participate in affiliate programs suitable for their site and the merchants to reach a larger audience and promote them to all affiliates in the network.
The publisher is an individual or company who promotes products or services on their site and earns commissions from sales they make from their referrals.
And finally, the consumer who sees an ad clicks on it and buys something through that link.
5. What do affiliate marketers do?
Affiliates help companies to increase traffic, sales, leads, and brand awareness by promoting their products and services. They do this by creating informative and useful content on their blog or social media page and then share with their audience.
In return, affiliates receive a percentage of each sale that they make.
For example, if you have a website about cooking, you may create a review page that has links to the best kitchen appliances on Amazon. And if someone clicks on one of those links and buys something, you get paid a small percentage of the sale price.
6. Can I start affiliate marketing with no capital?
The short answer is, of course, you can. Affiliate marketing is one of the affordable ways to start making money online, as you don't need to create any products yourself.
Instead, you simply link up a buyer and a seller, and you receive a commission on the sale you have referred.
You don't need to invest any money to make it work, but you must invest time daily to succeed.
However, if you want to scale your affiliate marketing business, you will need to invest in a domain, hosting, and a few resources.
7. Where can I promote affiliate links for free?
You can post your affiliate links on your website or social channels like Facebook, Twitter, Instagram, or YouTube for free. You can also use forums that allow users to post links for free.
Posting on these sites will help give you more exposure and drive more traffic.
However, ensure you follow the rules of each platform so that your content doesn't look spammy and you don't get banned.
8. Can I make $100 a day with affiliate marketing?
First, understand that while some people make an online income quickly after setting up their business, others can take months or even years before seeing any results.
Though, it's not impossible to make $100 a day; you will have to do more than sign up for affiliate programs and post links. Focus on writing valuable and in-depth content promoting products with higher revenue.
Good enough, you can access free affiliate marketing training where you learn to promote the best products. This way, you can maximize your earnings in record time.
9. Is affiliate marketing an excellent way to earn money online?
Yes. Affiliate marketing can earn you tons of money and make you a successful business owner; however, it isn't easy. You need to invest a lot of time, effort, and money to make it work.
You might wonder if affiliate marketing is so complex; why do people still choose it? The answer is because the benefits are way greater than the effort you put in.
Moreover, there are hundreds of companies out there that offer affiliate programs. You just need to find one that best fits your niche and promote it using different channels (like social media, blogs, or email lists).
10. What are the benefits and cons of affiliate marketing?
Pros
You don't need millions of dollars to start an affiliate program. In fact, you don't even need a website. Instead, you can get started for free with one of the many services that will give you a link to promote and track your sales.
You can start by promoting just one product or service and see if it works for you. If it doesn't, you can add more products or services until you find something that converts well.
It's relatively easy to do well if you choose the right products and approach your audience the right way. Some people make affiliate marketing their full-time job because they're successful.
Cons
With affiliate marketing becoming more popular daily, competition is fierce, particularly for products in popular niches like dating, weight loss, and beauty.
Therefore, success depends on finding a niche that isn't flooded with other marketers competing for the same customers.
11. How much can you earn from affiliate marketing?
There's no limit to how much you can earn with affiliate marketing. If you're willing to put in the time and effort and offer something that nobody else does, you could make thousands per month.
The sky is the limit, really.
12. Can I do affiliate marketing with no followers?
You can do affiliate marketing without any followers. Still, it will take a lot longer and be much more challenging than if you had an audience.
The big problem with affiliate marketing is that you need to drive a lot of traffic to make money. Therefore, if you don't have any followers, you'll need to gain them and build up your reputation, so they trust what you're recommending.
The key to affiliate marketing is finding products your followers will love and convincing them to check them out. Of course, it's hard if you have no followers, but not impossible.
13. How do affiliates get paid?
Affiliate marketers get paid when someone clicks on their affiliate link to a merchant's website. They earn a commission based on actual sales, leads, or clicks on links to the merchant's site in affiliate marketing.
There are four major ways that affiliates get paid:
Pay Per Sale – This is the most common type of affiliate program. Under this program, the affiliate is paid a percentage of the product's sale price after the consumer purchases the product.
However, it's essential to know what kind of commission or referral fee is paid.
Cookie duration – Most affiliate programs use cookies to track visitors referred from affiliates. A cookie is placed in the visitor's browser to track any sales the visitor generates.
It means the companies pay you if someone stays on your website within a certain time frame. For example, Amazon only pays affiliates for up to 24 hours after someone clicks your unique link to them.
Recurring commissions – when a reader purchases something through your link, you get paid again and again on that item as long as they still have access to it.
However, in some cases, they get paid when a lead takes action (like filling out a contact form or signing up for an email newsletter).
In addition, some programs offer a flat rate or fixed fee per sale or lead, while others pay on a percentage basis.
14. Can I do affiliate marketing with my phone?
If you can do affiliate marketing on a PC, you can do the same through your phone.
Although it will be a bit difficult because you will have to do a lot of work to get the results, this could be the right path if you have time, patience, and dedication.
If social media is where you get the most traffic and activity for your business, then focus on those channels first. Then, you can use your phone to share content and interact with people in your niche market.
So far, you have an internet connection; you can start earning money with your phone.
15. Which niche is best for affiliate marketing?
Well, to be honest, there is no perfect niche. You will have to find the one you are interested in (or, even better, passionate about). Because if you have no interest in it, you may abandon your website after a few months of hard work.
However, here are some of the profitable niches you may explore
Health and wellness – According to statistics, this industry is broad and will expand to over $6 trillion in 2025. There are many ways to monetize people's interest in getting fit; weight loss products, workout videos, supplements, exercise equipment, and lots more.
Finance – This niche is well-known and worth exploring. Remember, people always need help with their finances. So, if you can create a website focused on saving money or investment, you'll have an engaged audience you can monetize with time.
Beauty – Everyone wants to look good, so you can access regular customers if you do it right. You can sell makeup tutorials.
Make money online – Here's another field you may want to explore. People are always looking for tips to help improve their financial status. You can create a blog on passive income ideas, especially for people who wish to work from home.
However, some not-so-popular niches are gaining ground. Examples include vacuum cleaners, hotels, travel car seats, home security, gaming, real estate, golf, and more.
16. How can I learn affiliate marketing for free?
There are some great resources out there that are free:
Udemy – Affiliate marketing course for beginners
Wealthy Affiliate – Online Entrepreneur Certificate
Ahrefs – Affiliate marketing for beginners
Skillshare – Free affiliate marketing course
ClickBank Success – Affiliate marketing course
YouTube Channel: There are many great channels on YouTube where you can learn affiliate marketing for free. Examples include; Pat Flynn's Youtube channel, Income school.
17. Can I do affiliate marketing with no website?
Yes, you can do it. Though having a website is not required to be a successful affiliate marketer, it can help.
A professional-looking website inspires more trust in your visitors. In addition, it helps to position you as an authority in your niche.
However, if you don't want to build a website, there are other ways to promote your affiliate links on the internet.
Here are some alternatives:
Social media accounts such as Facebook and Twitter
Email newsletters and email marketing
Create an Instagram profile and share creative pictures of the products you want to promote with your affiliate links in the captions.
Create a video review of an affiliate product and upload it on YouTube. Add your unique tracking link at the end.
Build an email list of subscribers and promote products through email marketing.
18. What are the best free affiliate networks for beginners?
If you're just starting with affiliate marketing, you might be wondering what kind of networks you should join.
As a beginner, your best bet is to stick with well-established networks with years of experience.
This is one of the most popular affiliate marketing platforms. You can signup for free and access millions of products and promotional content.
To join, you need to fill out an application form and get the company's approval. Some requirements include a website with at least three months of traffic and a minimum of 6 posts per month on your website, Facebook account, Twitter account, etc.
This is another popular affiliate network with over 4000 merchants and more than ten years of experience in the industry. You can also signup for free. The platform lets you promote products, track sales and payment methods, manage your affiliates, and lots more.
This is probably the most extensive affiliate program regarding product diversity and sales volume on their platform.
However, they also have tight rules regarding affiliates promoting products on their platform. To be accepted as an affiliate, you need a website with at least one year of traffic and monthly sales of not less than $25 or 3 sales in total (whichever comes first).
Clickbank is one of the most popular affiliate marketing programs that deals with digital products such as eBooks.
Another great thing about this site is that it lets people from different occupations sign up for a free account. Once you sign up, you will have access to millions of products.
However, the quality of some items within the Clickbank affiliate program is debatable. But, the commissions are far above many others on this list.
19. What does affiliate disclosure mean?
Affiliate disclosure is the legal requirement that an affiliate discloses whether or not they receive financial incentives for any products or services they recommend.
It helps readers feel more comfortable with your content and protects you from being penalized for violating guidelines around affiliate links.
20. Which one is better, blogging vs. affiliate marketing?
If you are looking for a reliable source of income, both blogging and affiliate marketing can provide you with that. However, choosing between the two is not easy because each method has pros and cons.
Blogging is an excellent way to establish your brand and name. You can become a subject matter expert on your topic of choice. A blog will allow you to connect with like-minded individuals and build relationships that will benefit you in the long run.
However, monetizing a blog can be difficult, especially in the beginning. It may take several months before you start seeing significant revenue from your online venture. But, once your blog starts receiving traffic, it becomes easy to monetize it.
Unlike blogging, affiliate marketing is quite simple to get it up and to run. For example, you can do affiliate marketing without having a website or a blog.
So yes, in this case, affiliate marketing beats blogging because you don't need to put too much time and effort into your business.
However, remember you can do blogging with affiliate marketing. In other words, affiliate marketing is a part of blogging.
Conclusion
When starting with affiliate marketing, there are many things you want to clarify before diving in.
Hopefully, this post has clarified most of the misinformation you have about affiliate marketing.
Remember that affiliate marketing is not a get-rich-quick scheme. But with the right strategy and mindset, the sky is the limit.
If you want to learn more about affiliate marketing, join the free training. You will get instant access to
Step-by-step training and mentorship
Tools and resources
Domain
Hosting
Site and community support
WordPress website and more!
If you have any questions or comments, please drop them below.