Affiliate marketing is one of the best ways to earn passive income online if you do it the right way. It's all about promoting and selling other people's products. And if anyone ends up buying the product, you earn a commission.
The good thing is you don't have to develop any product and can work from anywhere.
However, if you're starting, you need a guide to help you skyrocket your affiliate earnings and avoid common affiliate marketing mistakes beginners make.
And that's why I prepared this step-by-step guide to help you through your affiliate journey. So, if you're ready, let's move.
So, What Is Affiliate Marketing?
Affiliate marketing is when you promote someone else's product and receive a commission when someone buys through your link.
But bear in mind that affiliate marketing takes time. First, you need to write valuable content, build trust with your readers and persuade them to take action while on your website.
How Does Affiliate Marketing Work?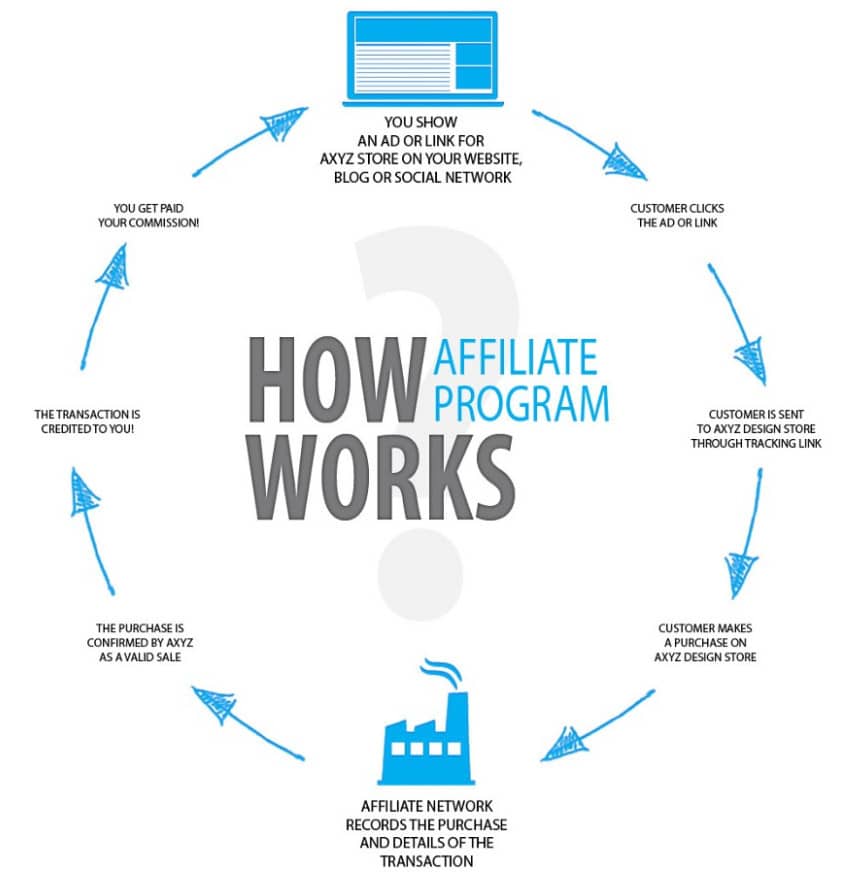 Source: BigCommerce
For affiliate marketing to be successful, each of the following needs to play the affiliate, merchant, consumer, and affiliate network.
The Affiliate or Publisher creates content on the website, blogs, or social media to attract consumers and convince them of the benefit and value of the product. And when they buy, he receives a commission.
The Merchant is the company who create the product, market them through the affiliate.
For example, If you develop a product, you can set up an affiliate program so others can promote it.
Consumers are the leading force in the affiliate marketing circle. If they don't purchase the product, there will be no commission. So they need to visit your website and clicks on your affiliate links to initiate sales or leads.
Affiliate Network acts as an intermediary between the merchants and the affiliates. They track your purchases and make sure you receive your commissions.
There are many marketplaces for affiliates to pick tons of products to promote, and good enough, it's free to join.
When you join an affiliate program, you receive a unique link from the merchant to promote the company's products or services.
So, when people land on your website and clicks on the link or buys the product, you earn a commission.
How Affiliate Marketers Get Paid
The are three ways to receive a payment depending on the agreement
Pay Per Click (PPC) – In this program, the merchant pays the affiliate for all the valid clicks generated even if they do not increase sales.
Pay Per Lead (PPL) – Here, the affiliate is paid a fixed commission when the consumer fulfills the desired action. For example, take a short survey, fill out a contact form, download a file, and like.
Pay Per Sale (PPS) – In this model, the merchant pays the affiliate a percentage of all qualified sales agreed upon by both parties. However, it means he only gets a commission when the consumer makes a purchase.
Then, sign up with top affiliate networks are
Amazon Associates
ClickBank
ShareASale
CJ Affiliates
Rakuten Affiliate
How To Start Affiliate Marketing For Beginners
Choose a profitable niche and domain name
Build a self-hosted website
Identify your target audience
Create great content
Build trust and credibility
Add a disclosure page
Improve User Experience on site
Drive traffic to your website
Reach out to marketers within your niche
Prioritize quality over quantity
Track and manage your affiliate links
Avoid spammy your content with affiliate links
Be patient and persevere
Don't stop learning
Choose A Profitable Niche And Domain Name
The success of your affiliate marketing business depends mainly on your niche and target audience. So, it's essential to choose a profitable field you know and can earn you money over time.
Choose a niche you genuinely enjoy because you will spend much time researching and creating content around your topic.
Then pick a domain name relevant to your niche. Again, try to keep it simple so your audience can identify it quickly.
Many people use their names, and you can do the same if you find it challenging to pick one.
Build A Self-hosted Website
If you really want to make money with your website, then use a shared hosting service.
Unlike free web hosts, WordPress gives you the flexibility and free will to customize and monetize your blog as you wish. You have control over everything you do.
Then choose reliable and powerful web hosting. For example, I use SiteRubix for this blog, and their support is top-notch.
There's 24/7 live chat, email, and support ticket. So if you have any issues, rest assured that you get them resolved quickly. But, again, I'm speaking from experience because that's what I use.
Follow the steps below, and you have your website all set up within few minutes.
How to build a WordPress website in minutes
Identify Your Target Audience
Next is to know and understand to whom you want to direct your message. Again, the main reason is to be sure you are relating with relevant to your niche.
Find out
What they are searching for
What keeps them awake at the night
What they need to make their life better
With that, you understand their needs and can address their pain points better.
Create Great content
If you want to make money with affiliate marketing, you need to do more in-depth content like comparison posts, product reviews, how-to guides, tutorials.
So, aim to create helpful, informative, and engaging content for your readers. Remember, without blog content; there will be no traffic and thus no sale.
Write evergreen topics as they generate more website visitors and remain relevant for an extended period.
This infographic from Smart Bloggers emphasizes how you can make money from writing quality content.
Build trust and credibility
Build a good relationship with your readers and prioritize helping before asking.
Create quality content, answer their queries and provide solutions to their pain point. And when you select products, have your readers in mind.
Promoting low-quality products can damage your credibility and their trust in you. So, when selecting a product, choose wisely. Recommend those of high quality from reputable companies.
With that, your readers will trust and buy from you.
Add A Disclosure Page
As an affiliate, you need to disclose your affiliate links and programs as the Federal Trade Commission requires.
So, add a disclosure page on your website and place it where your visitors can quickly locate it.
When you promote any affiliate product, be open about it, add affiliate disclaimers to the post.
An example from Ryan Robinson, a full-time blogger and consultant

Source
Ryan Robinson
Improve User Experience On Your Website
A great website user experience will result in a better rank on search engines which means more subscribers and more sales.
Here are a few points to note
Use short sentences and paragraphs.
Reduce website loading time
Include a table of content
Add white spacing between paragraphs
Use high quality and well-optimized images
Drive Traffic To Your Website
Succeding with affiliate marketing has a lot to do with traffic. It means people must visit your site and click on your links to earn commissions.
Though you have created informative and helpful content, you don't just stop there. Getting people to visit your website is crucial traffic.
So let's look at some of the ways to get more traffic
Search Engine Optimization (SEO) is the process of optimizing your pages to rank high on search engines.
You can drive more organic traffic to your website if you improve your SEO. For example, if you target getting your pages to rank on the first page of Google, you get more web searches which means more subscribers, sales, and conversion.
For example, Neil Patel, a New York Times bestseller and entrepreneur drove over 30 million visitors to his website, leveraging the power of SEO.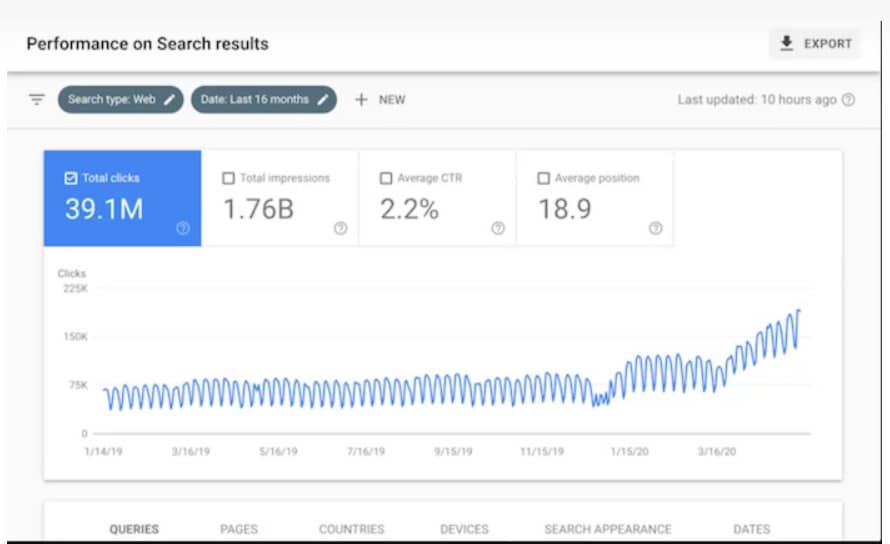 Source Neil Patel
Paid ads are a good option if you have a budget to set aside for them. You can use Google, Facebook, Pinterest ads likes.
Immediately your ads begin, you notice a host of visitors on your site. But the only problem is that the traffic stops when the budget ends.
Hence, it might not be the best option initially, especially if you're trying to reduce costs.
One of the most reliable ways to grow your affiliate earnings is to build an email list. Apart from helping with audience engagement and retention, emails drive people to take action and yield a high return on investment.
Over 4 billion email users worldwide, and over 300 billion are sent and received every day. So email marketing is definitely not dead.
So, if you are yet to start your list, head over to Aweber and grab the free sign-up, then upload the sign-up form on your website and give out valuable freebies to encourage people to subscribe.
The good thing is that you may send out a broadcast to your subscribers about new products. Then, all you need do is to include a coupon, bonus, or any other freebies to encourage them to buy.
Reach Out To Marketers Within Your Niche
Connect with other entrepreneurs within your field; it could be Facebook groups, community, bloggers groups, and likes.
There's a community of aspiring and successful internet marketers helping one another to succeed online. If you're interested, check out the post here.
Prioritize Quality Over Quantity
You can promote any amount of product, but it's wise not to pick many of them at once. Instead, apply for a few from the beginning and, over time, increase the numbers.
So, take time to study the product you wish to promote and recommend its high quality.
Remember, it's easy to lose their trust over presenting poor-quality products.
Track and Manage Your Affiliate Links
Over time you may have many affiliate links, and it becomes difficult to manage them in one place. You can do that easily by installing a plugin in WordPress, either Pretty links, thirsty affiliates, and likes.
Use that to shorten and track your affiliate clicks. Then find out which of them is performing best and where the traffic is coming from.
Avoid Spammy your content with links.
Don't make your website look spammy with affiliate links all over your content. Instead, write helpful and informative content to build trust and connect better with them.
Aim to address their pain point in your post.
Be patient and persevere.
True, affiliate marketing is lucrative but takes time to see the result.
So, be patient, consistent, and committed.
Don't stop learning
Invest substantial effort and time in learning new trends about your business, even if you are a professional blogger.
Remember, there will always be room for improvement, so never stop researching new insights.
Conclusion
In the beginning, you may not make enough money. Though affiliate marking takes time and commitment, the effort is worth it in the end.
The key to success key here is creating valuable content that helps your readers solve their problems. So, look for products around your niche, create quality content, and recommend them as a solution to address your readers' pain points.
I hope these affiliate marketing tips help you get more affiliate sales.
Which of these affiliate marketing tips do you like best?
I would appreciate your feedback and ideas.
Would you please share your thoughts with us in the comment?
If you like this affiliate marketing guide, please share it with others.
Make Money Online
If you're looking for the best way to make money online, affiliate marketing is a good option.
You can read more about how to make money online here.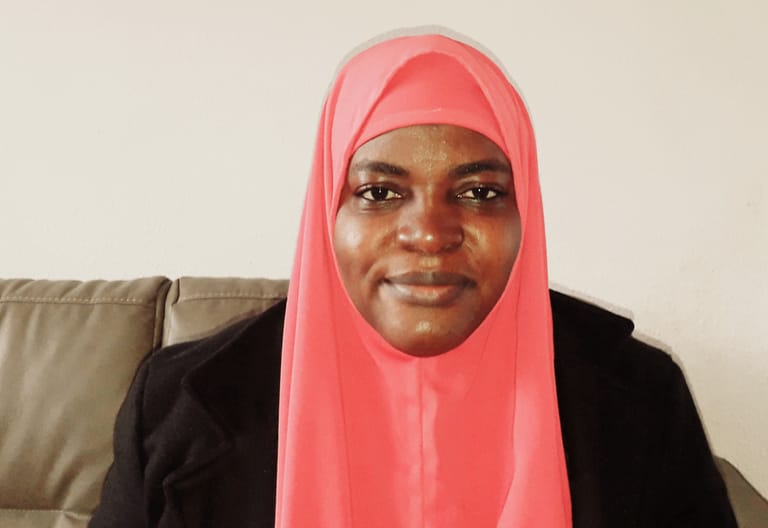 About The Author
Muslimah is a writer and blogger. She helps beginner bloggers scale their blogging business to spend more time with their families while working from home. When she's not spending time with her family and friends, you'll likely find her reading books or writing articles like this one.