Getting started with affiliate marketing can be overwhelming, but it can also be a simple process if you know what to do.
The first is to choose a niche for your website before starting affiliate marketing.
Secondly, creating a website as an effective way to promote affiliate products is essential.
This article will guide you on selecting a field, creating custom affiliate displays with WordPress, and getting traffic to your site.
You will also learn to create a landing page, manage your affiliate links, and create a sales funnel.
Whether you're a beginner or a super affiliate, this will take you through all you need.
Let's dive in!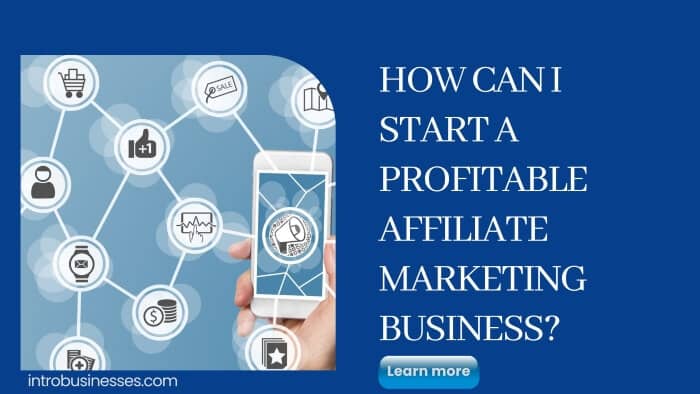 6 Essential Steps To Starting A Successful Affiliate Marketing Business
Step 1: Choose a Niche for Affiliate Marketing
While there are thousands of niches to choose from, only some are profitable. So, consider which products to promote on your blog.
Ensure you choose a niche in which you have knowledge and interest. You will have edge over competitors if you're passionate about your field.
Hence, before you begin selling or promoting your products, you must choose a high-demand niche with little competition.
To do this, conduct keyword research to see if there's any competition in the niche. Once you've done keyword research, you can select the products to promote.
For example, if you're looking to start an affiliate marketing blog, consider a niche that interests you and is less popular.
Affiliate marketers who make money every month choose the field they love and are passionate about. 
And that's precisely what makes it so successful, a niche that reflects their passion for a specific subject.
So choose a niche that interests you and make it a point to monitor reader behavior and optimize your site for maximum sales.
Step 2: Create Custom Affiliate Displays with WordPress
Creating custom affiliate displays with WordPress can be simple if you know how to make basic customizations.
For example, you can use a Lasso display box to add affiliate links to your articles to make them more visible and increase your income.
This plugin comes with eight different themes, including a demo theme. In addition, it includes styling options for background color, buttons, call-to-action badges, and texts.
With Lasso, you can create custom product displays and tracking links for your affiliate links. You can also add or remove fields in the listing submission form, edit attributes and set the payments deadline.
Moreover, you can enable or disable front-end submission. And in addition, create your widgets for various kinds of content.
By customizing your affiliate displays with WordPress, you can boost your traffic and make more money.
Step 3: Get People to Your Website
A great way to increase your reach and generate commissions is by promoting affiliate offers on your site through the Thrive Leads plugin for WordPress.
Many affiliate programs require you to track your performance to ensure that you are making money. Luckily, WordPress offers several plugins that can help you do just that.
In addition, the plugin helps you build an email list of potential customers. Using these plugins will help you get visitors to your site and track the results of your affiliate marketing campaigns.
You first need to determine what your site will focus on so that people can find your affiliate links and make a purchase.
Remember, affiliate programs will pay you a commission when someone buys a product or service through your affiliate links.
Therefore, ensure that your products or services are relevant to your target audience and valuable to them.
Another vital thing to consider is your budget. You can do everything yourself if you have the technical skills and time. 
However, if you're starting and don't have a huge budget, you can outsource the work to a web development company.
It's crucial to understand that affiliate marketing requires traffic, and low traffic will not generate profits fast.
In addition, you should know that only 0.07% of internet users click on advertisements,s and not all purchase goods.
Step 4: Manage Affiliate Links
Suppose you want to use WordPress to manage your affiliate links. In that case, you should install an affiliate link manager like Thirsty Affiliates.
This WordPress plugin adds a new post type for managing affiliate links. It allows you to add affiliate links, control opening and closing, and track statistics.
Though there are two different versions: free and pro, ThirstyAffiliates is one of WordPress's best affiliate link management tools.
The free version only lets you add affiliate links for one product. In contrast, the premium version of the plugin includes an analytics feature. 
But, if you are interested in tracking affiliate sales and performance, consider purchasing the premium version.
This plugin is also an excellent choice if you have been using the affiliate program for a long time. It lets you automatically use Amazon Auto Links to add affiliate links to your posts.
Affiliates Manager is a powerful plugin for managing affiliate links. It helps you track all affiliate activity and offers a dashboard where you can see the details.
Furthermore, there is no restriction on how many affiliates you can have. The paid version sells for $49 a year.
Step 5: Create a Funnel
Creating an affiliate marketing funnel is relatively simple, especially if you already have a WordPress website.
Once you've set up your site, you can use the free WordPress plugins and themes to create a funnel.
And with drag-and-drop funnel creators, you can build your funnel in no time. But what are the best practices for creating a funnel for affiliate marketing?
First of all, make sure you have the right plugins installed. Next, you need a plugin for WordPress. Fortunately, you can do this easily with WooCommerce.
It works with various themes and lets you customize everything, including the pages and posts that make up your funnel.
A sales funnel is one of the most effective ways to convert prospects into customers. 
Besides guiding people from interest to conversion, it also allows you to track your progress and adjust your marketing strategy.
You can use a sales funnel as an online brochure or an affiliate marketing system. 
However, choosing the right offer, opt-ins, and landing pages would be best.
WordPress sales funnels are easy to create and use. Using the CartFlows plugin for WordPress will enable you to set up your funnel without any coding knowledge.
A sales funnel should start with an awareness stage because that's where the consumers first become aware of your brand and website. Next, they research the product and find out about its value.
After that, they begin building a relationship with you and your product.
Once they have an idea about your product, they'll purchase it.
A good affiliate marketing funnel can lead to a sales page. Then, you can create a sales page, webinar, or even a phone call.
Step 6: Create a Sales Page
Creating a sales page for affiliate marketing with WordPress can be a breeze when using an excellent platform such as SeedProd.
There are several sales page templates, and the library is constantly growing. You can also begin from scratch by clicking a blank template or filtering templates by keywords.
For example, SeedProd includes several templates for sales pages, and you can select one by hovering your mouse over the thumbnail.
The best way to show off your products and convince customers to purchase is to create a sales page. However, this can be challenging for anyone with no design experience.
Fortunately, a few simple ways to create a successful sales page include utilizing a WordPress landing page builder.
Make sure your link structure is uniform. This will give your site a professional appearance.
Then include your affiliate links in the relevant blog post, regardless of the subject.
You can use freebies or WordPress plugins to collect email addresses from visitors.
Also, remember to add a disclaimer at the bottom of every post to let users know that you receive commissions from affiliate sales.
Using Facebook ads to advertise your affiliate links can increase your chances of selling products.
When people click the link, they're more likely to provide their contact information or buy the product. So you'll want to make sure your sales page is optimized to increase this.
Conclusion
Before getting started, make sure you've chosen the right product to sell. 
Most affiliates tend to focus on product specifications instead of the buyer's emotional response, making a huge difference in conversions.
The best products address a buyer's emotions rather than the product's specifications.
You can even use different payment gateways for other products so that customers can choose their favorite payment method. 
By following these steps, you'll be well on your way to generating sales.
Thank you for reading.
If you have any questions or comments, please leave them below.
And if you're eager to start your own business, join our free training; no credit card is required.