Affiliate marketing is the best way of generating income online. Statistics from medium show that more than 80% of brands have affiliate programs, which means there are many opportunities for bloggers and content creators in this sector.
Most of the famous bloggers make a steady income from affiliate marketing. For example, Adam Enfroy, a full-time blogger, made over $281,000 in June 2021, mostly from affiliate marketing.
However,  it's not a get-rich-quick scheme; you need to put in the time and effort to get a result.
Though there are tons of affiliate programs online, choosing high-quality ones should be your top priority.
Rather than picking tons of them at a go, you can select three to five programs that focus on solving your audience's problem.
And if you really want to get better results, it's best not to paste links all over your website content.
Disclosure: Some of the links in this article are affiliate links, and I may earn a small commission at no extra cost to you. Thank you.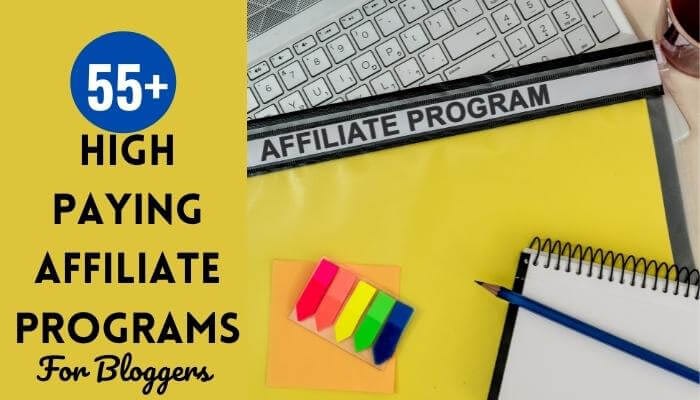 What Is An Affiliate Program?
An affiliate program is an arrangement where a merchant pays an affiliate (you) a commission for sales or leads generated.
It means you get paid an agreed amount when people visit your website, click your affiliate links, and make a purchase.
Wouldn't you want to promote top products and make large affiliate commissions?
Of course, you do; and that's why I put together several high-ticket affiliate programs for all bloggers, especially beginners. You can earn a full-time income by promoting these programs in many niches.
But be aware that prospects may have more objections to high-end products. Therefore, it's crucial to address these objections in your copy and clearly show them the benefits.
What I Like About High-Paying Affiliate Programs
It's possible to make as high as $1000 per sale.
The majority of them will pay you high recurring commissions every month.
They fit in many blog niches.
They're trusted and valuable products that your audience wants.
Even their landing pages convert.
How Do You Earn Money From High-Paying Affiliate Programs?
To sell high-ticket affiliates, you must convince someone that your high-paying products will help him solve a critical problem.
Create high-converting pages to show how you can solve the problem. Drive targeted traffic that you can attract to the sales pages, which include well-placed Affiliate Links.
Here are my top affiliate marketing strategies that increase conversions:
Numbers don't lie.
Promote affiliate marketing programs that pay high commissions, and you should concentrate your efforts there.
A sale with an affiliate commission of $3 is less than one with a $200 commission.
But, to attract people to your high-end affiliate programs, you have to improve your marketing. Not enough is just to paste an affiliate link everywhere you are allowed.
People will be more inclined to consider convincing posts before they make a significant investment. These affiliate programs pay high commissions and are high-ticket, but they do offer high-quality products.
Let's talk about the technique to use for promotion. Then, we move to the list of high-paying affiliate programs.
What Are The Strategies for Promoting High-Paying Affiliate Programs?
Let your prospects know how you can provide a solution to their problem.
Write marketing content to convince them to buy, including demos, reviews, and comparison posts.
To give honest and trustworthy recommendations, learn and use the program.
You can build an email database to guide prospects to the buying stage through a sales funnel. Then, you can use strategies to get email subscribers engaged.
I'll only talk about high-paying affiliates: those that pay 50, $100, or up to $7500 for each sale. When you market the right product to the correct audience, affiliate opportunities can amaze you.
For a single sale, you can make $1000 using affiliate marketing programs. In addition, it does not require additional tasks.
You will need to put in the same effort to earn $10 per sale. Unfortunately, though, there's no product creation and no customer support. However, you make more.
Target blog traffic which converts to sales, and you will have a steady income each month. They are worth their price.
You can promote these programs to the people that matter to you because they address a real problem. In addition, they genuinely do pay in the long run, and their landing page converts well.
55+ High-Paying Affiliate Programs to Earn More Money
Below are my top 55 high-paying affiliate programs.
1. LiquidWeb Affiliate Program
LiquidWeb, a managed web hosting provider, offers the best hosting services for medium-sized to large online businesses. You can make up to $1,500 each sale with a 90-day cookie.
You have two options to access the program. C.J. by Conversant is an option, or you can access the program through Impact Radius. The Impact Radius platform is my favorite.
2. Shopify Affiliate Program
Shopify will provide you with all the essential tools to create an online store. Plans start from as low as $9.99 per month. The standard plan sales are worth 200%.
As an affiliate, you can earn up to $598 if you refer customers to the standard plan and $2000 to Shopify Plus.
Shopify is available for a free trial.
3. CloudWays
This is the #1 cloud hosting solution for Medium, High Traffic Sites, and plans start at $10 a month. Affiliates typically receive $50-150 per sale. Additionally, CloudWays will pay you to refer customers.
Based on how many monthly referrals your business receives, you can earn up to $200 per sale. You will also receive $30 once-off and 7% in lifetime residual commissions. To determine which payment structure is best for your needs, you can contact support.
You can rent managed cloud hosting services from this company starting at $10/month. This includes 25GB storage, 1TB bandwidth, 1GB RAM, and 1TB bandwidth. You have a dedicated server to host your websites.
Get a 3-day complimentary trial. No credit card is required. To receive 20% off your 2nd month of membership, sign up using a coupon code.
It is one of the best cloud-hosting services and offers impressive features such as server caching with free SSL, C.D.N., dedicated firewall, etc…
4. Siteground
With this hosting service, your optimized site will load faster and receive protection through security firewalls.
Siteground shared hosting is something I strongly recommend. It is my personal preference.
They are affordable. Plans start at $3.95 a month. (The GrowBig package is $5.95 and offers server-side caching, a free backup restore, and site transfer. Your site can handle more visitors than your plan allows.
They provide fast results in secure environments. For inadequate traffic filtering, you'll find S.S.D. Disks, PHP7, and AI Anti-Bot software.
The company has highly trained technicians that you can reach in seconds via chat or phone. Siteground Hosting is a good option for you if your site needs to be secure and responsive.
It is an excellent hosting service. Let's now consider it an affiliate.
For every sale, you get up to $125. Here's how it works.
$50 per sale for 1-5 sales each month
For 6-10 sales per month, get paid $75 per sale.
For 11-20 sales per month, get paid $100 per sale.
Your account manager can help you get a higher share if you require anything beyond that. In addition, you can get up to a commission of $125 for each sale.
You can recommend Siteground to anyone, whatever their needs. They offer shared, cloud, as well as dedicated Hosting.
I recommend CloudWays if you aren't sure how to optimize your site for more efficient server resources.
Established with thousands of customers, they still satisfy customers' needs.
Affiliate payouts take place twice per month. PayPal's minimum payout is $50. Wire transfer withdrawals have a threshold of $5000.
6. Kinsta Hosting
Kinsta offers a Managed WordPress Hosting that's super fast and only $30 per month. Promoting Kinsta can earn you $50 to $500 per sale and 10% in recurring revenues. The plan purchased by the referral determines how much commission you receive.
The things I like about Kinsta include:
Premium Google Cloud tier for everyone
Security and removal of malware in a highly secured environment
WordPress experts' support
7. WPEngine
It offers managed WordPress hosting services. However, it doesn't fit everyone's needs. Promote it to individuals or businesses that care about site security, loading speed, and who can afford it.
Plans start at $29 a month. Affiliates receive a minimum of $200 and 100% of the initial payment. Sales exceeding $200 can result in up to $7500.
You get the best income possible; check out the 30-day trial.
They offer incentives for you to promote your services. For example, for every ten sales you make, you receive a $1500 bonus.
Refer an affiliate, and you will get $50 each time you sell WPEngine to another person. ShareASale's affiliate network allows you to apply and pay through Payoneer and check.
8. W.P.X. Hosting
WordPress Hosting plans start from $24.99/month. It is the only managed WordPress hosting that limits how many visits you can have per month.
The Business, Elite and Professional plans offer unlimited, 100, 200, or 500 GB. It is a chance to earn massive amounts passively. For each sale, you will earn a recurring affiliate commission. It's almost like a machine that produces money.
P.S.: This scheme is not for the quick-rich. It's an integral part of building a business in affiliate marketing.
9. Bluehost Affiliate Program
Bluehost, a web hosting company, offers a highly lucrative affiliate program. It pays out more than $5 million annually in affiliate commissions to bloggers.
Affiliates earn $65 per new customer who signs up with a 60-day cookie.
Bluehost has dedicated affiliate managers that are available to provide support and advice whenever you need it.
Payment is made through Paypal between 45 and 60 days after the purchase. But you need to earn up to $100 to get paid.
Its affiliate program has helped top bloggers such as Michelle Schroeder Gardner of Making Sense of Cents to earn more than $40,000.
10. Hostgator Referral Program
If you're a beginner, I encourage you to recommend Hostgator and make money.
However, they do things differently by paying per signup. Five signups or more qualify for $25 each. 21+ registrations are worth $125 each. You will receive a cookie for 60 days.
They pay monthly, and you receive your check or PayPal payment each month.
11. Namecheap Affiliate Program
Namecheap, a web hosting provider and accredited domain registrar since 2000, is a seller of SSL certificates. Every new customer who purchases through your affiliate link earns you a 15% commission. After a purchase is complete, they make payment within 30 days.
12. BigCommerce Affiliate Program
BigCommerce software allows you to create stunning storefronts for your customers. Their in-built apps and tools are robust and modern, which can transform your store into a place that people want to shop from and increase sales.
The affiliate program offers a 90-day cookie. Earn $1.50 for each registration and $1,500 for every sale.
13. FreshBooks
Create invoices, offer your clients a payment method, and keep track of your earnings with FreshBooks. Affiliates can earn $55 per sale by promoting FreshBooks. Start your FreshBooks trial.
14. SEMRush – SEO & S.E.M. Suite Tool 
This tool analyzes competitors and conducts a keyword research. It also helps you build backlinks and audit your website. It's not difficult to use. You get a whole suite of 40 tools for the price of one, and plans start at $99.95 a month.
As an affiliate, you can earn 40% residual commissions from each active customer you refer, ranging from $38.80 to $159.
Imagine you're referring to 3 pro accounts, one guru account, and one business account. That is $398.92 per month for five referrals. For now, this is just a theory. Make it a reality.
They send payments via wire transfer or PayPal monthly. PayPal requires a minimum withdrawal of $50 and wire transfer allows for a maximum withdrawal of $1000.
SEMRush has a 14-day pro trial option (credit card required) to check out how it works.
You can do many things with SEMRush tools; you can check content ranks, sites link, keyword ranking, and so forth.
15. LongTailPro
Another keyword tool that can help you find profitable keywords is the LongTailPro. It allows marketers to find long-tail keyword phrases and see how beneficial it's to rank for these keywords.
LongTailPro is a powerful and affordable keyword research tool. You can get it tested for free for ten days. You can also choose to start a plan at $25 per calendar month if it is what you want.
Affiliates earn 30% recurring commissions for promoting L.T.P. Clickbank hosts the affiliate program and pays via PayPal, check, or A.C.H. once you have reached $10 in your account balance.
16. Jaaxy Affiliate Program
If you are looking for an advanced keyword research tool for online marketing, go for jaaxy. It has many unique features to help you get low competition keywords if you aim to outrank your competitors.
You receive a yearly commission of $400 on the enterprise plan and $200 on the pro plan yearly.
17. ClickFunnels
This is a drag-and-drop sales funnel maker to capture leads. It offers two plans, $97 and $297 per month.
ClickFunnels is software that bloggers and business owners can use to make more money from their blogs. It offers everything you need for capturing leads, hosting webinars, and building mailing lists.
It is essential to create a sales funnel. It's the process you want visitors to follow for them to buy your product.
ClickFunnels allows you to earn 40% recurring referral commissions as an affiliate. You'll get an average commission of $38.80 – $118.80 per referral. For example, refer an affiliate to earn 5% on sales while he still gets 40%.
It's one of the best affiliate programs offering residual commissions. In addition, ClickFunnels can help you create a sales funnel.
How to Join ClickFunnels Affiliate Program
You need to fill the application form. ClickFunnels gives you a 14-day free trial. After that, get $5,586+ in bonus offers. This course will teach you to create profitable products, build conversion funnels, and send traffic to the product pages.
Tipalti makes it easy to pay affiliates via A.C.H. and direct deposit, PayPal, or wire transfer. Based on your location, you will be able to choose from a variety of payment options.
ClickFunnels may take up to 45 business days to complete sales. Once cleared, funds are received, and you will receive two payments per month.
18. Amazon Associates
Amazon is an excellent platform for affiliate marketing beginners. Its vast network handles most of the sales process and warms up your leads. Your task is to attract new clients via external traffic to the Amazon website.
There are millions of products that you can pitch, and they keep adding new ones daily. So that is an excellent way for people to make money, even if they don't have much experience in affiliate marketing.
Commissions range 1-10% 1-day cookie Commissions in general low but conversions high up to 12% per sale.
Amazon could be an affiliate program that offers high-ticket products.
For example, the Canon EF 600mm f/4L U.S.M. Telephoto Lens price comes to $12,999.
Suppose you want to become an Amazon Associates. First, visit Amazon.com (The affiliate program link is in the footer).
19. Skimlinks
One of the best affiliate marketing programs suitable for beginners Is Skimlinks. Moreover, it does not require you to join each program individually.
And you can earn from 1% up to 80% as an affiliate. Payment is made through Paypal.
20. Fiverr Affiliate Program 
If you are looking for one of the world's largest marketplace for online services, Fiverr leads the way. There are millions of digital services from graphic design, digital marketing, programming & tech, writing & translation, data, and many more.
The affiliate program has different sections, and you can earn up to $150 for a 1st-time buyer depending on the one you choose.
21. Wealthy Affiliate Affiliate Program
The best online training platform for affiliate marketers, especially for beginners. Wealthy affiliate pays affiliates a recurring monthly commission depending on the referral plan.
You earn a $23.50 recurring monthly commission and $46.50 for premium plus per referral.
22. LinkMink 
LinkMink hosts its affiliate program, and there is no minimum payout threshold.
They are always looking for new payment options. PayPal is the only available option at this moment.
23. ConvertKit
This is the #1 Rated email service to bloggers. Complex automation is made easy by Convertkit. It allows you to build an email list quickly and then send well-crafted messages.
Refer customers to the affiliate program and earn 30% in recurring commissions.
Convertkit is the most accessible email marketing software I have used. If you are looking for more automation with less money, convertkit is an excellent option to use.
You can send emails directly to people who open a particular email or follow a specific link on autopilot. That is an excellent feature for those who sell online courses, especially email ones.
In addition, you can create multiple opt-in forms with different incentives. For example, install the WordPress plugin to display an opt-in form for specific posts or other topics.
Register for your free first month (no need to use a credit card). If you don't want to pay, you have the option to switch to free.
They offer paid plans starting at $29 for 1000 subscribers and pay 30% residual revenue to the affiliate for the lifetime customer.
24. LeadPages
LeadPages is one of my favorite list-building tools, but it offers so much more. It is a landing page builder that you can use to:
Create your mailing list
Register participants for your webinar
Sell digital downloads online – using Stripe Payment Processor.
It's an alternative for ClickFunnels.
You earn 30% lifetime residual commissions per referral as an affiliate. The commission per customer is up to $59.7 each month.
They offer an affiliate program that allows you to earn money via PayPal. They are also available on ImpactRadius, where you can receive payments via Payoneer and A.C.H. as well as a check.
25. GetResponse
Get 33% on your email marketing or landing page software. You can use this software on popular websites like Technorati or CNN.
It offers even more appealing features like autoresponder sent when the user takes action on a given email, have an age limit, etc.
It is a highly recommended online service that allows you to send email marketing campaigns. Start now to get your first month free. (No PayPal or credit card necessary).
They pay commissions by PayPal and check when you earn $50 each month.
26. MailerLite
MailerLite, the top email marketing service, is 30% off. You can refer your friends to a reliable and affordable email service provider. As an affiliate, you'll also earn your residual income.
It's free for up to 1,000 subscribers. Every plan, including the free one, has unlimited email sending.
27. ThriveLeads
ThriveLeads lets you collect email addresses. The list-building tool by ThriveThemes was one of the most powerful ones.
It's a one-time fee for incredible features such as precise targeting, intelligent trigger to display exit forms, and advanced reporting.
ThriveThemes provides a subscription plan that allows you to access all tools for as low as $9.99 per month.
As an affiliate, you will receive 50% upfront plus 25% residual commissions for any future referrals.
28. AWeber
AWeber affiliate program offers a 30% recurring income. All plans come with unlimited emails, and all start at $9 (one-month trial free).
Start your list now, and you will only need three people to join your downline. These people will either help you pay the fee or provide income. Send follow-up emails, RSS emails, etc.
It integrates the WordPress site seamlessly with Opt-in Monster.
29. LiquidWeb
It's one of the top hosting sites for managed WordPress. In addition, they do not place traffic limitations, which is unlike other web hosts.
Furthermore, liquidweb offers the latest technologies, making hosted sites very fast. In addition, it has an excellent support team.
This program also offers residual commissions, which is a rare feature in high-paying web hosting affiliate programs.
You can earn up to $1500 flat per sale and 5% of your residual income for life. It's as low as $1500 and as high a $56.35 monthly per customer.
It's a fantastic way to earn income, as you're referring your readers towards a trusted program. You can find the detail on the networks that allow you to pay by PayPal, A.C.H., and check.
30. T.D. Web Services
This host offers Managed WordPress hosting starting from $15 per month, business hosting starting from $3.00 per month, dedicated servers starting in the $85/month.
Through their managed affiliate program, you will receive 35% per recurring signup.
They pay using PayPal.
E-commerce residual affiliate programs
31. Volusion
Volusion pays 200% per sale for affiliates up to $2000. You can also earn 35% residual income through their reseller program.
You can set up your online store to accept payments via Amazon or PayPal. Pick from the available plans and create your store.
32. AShop
You will receive 25% monthly affiliate commissions on any merchant that you refer. AShop allows merchants the ability to start an online store quickly. It features nine ways to make money and also includes beautiful templates.
It is customizable and can include tools to increase sales as well as data-driven actions.
Affiliates earn between $6.25 and $62.25 per month and customers.
33. Tailwind Affiliate Program
A Pinterest scheduling tool, Tailwind, can pay you a 15% recurring commission for every sale you make through your affiliate link. In addition, you can get 15% off all transactions with their 90-day cookie.
Do you want to try Tailwind for yourself? You can get the 1-Month free trial.
Are you interested in becoming an affiliate? Then, start earning monthly income by joining the Tailwind affiliate program!
34. Elegant Themes Affiliate Program
Elegant Themes is known for its premium WordPress themes. In addition, they pay $3,000,000 annually to their affiliate program, which has more than 30,000 members.
There is a 50% commission and recurring payments. You get paid 50% for the initial payment. Then, every time a customer renews their service, you still receive commissions. You have a 180-day refund cookie.
35. Astra Theme Affiliate Program
Astra is a lightweight WordPress theme with millions of users worldwide. It's easy to set up and has many starter templates to choose from.
You earn a 30% commission for every sale. Payment is made through Paypal with a 60 day cookie period.
The minimum payout is $210.
36. StudioPress Affiliate Program
StudioPress provides high-quality themes, plugins, and support services to customers in the same way as Elegant Themes. You receive a 35% commission on theme sales and tiered flat-rate compensations ranging from $75 to $150 per site. In addition, you get access via the ShareASale network and a 60-day cookie.
37. GoDaddy
GoDaddy also offers domain registrations. C.J. Affiliate by Conversant and Zanox Affiliate Network are the best ways to join their affiliate program. Your affiliate commission is 40% on all products sold through your link.
38. Dreamhost
This award-winning web hosting company has been in operation since 1997. But, unfortunately, it takes a lot of time to build a company.
Dreamhost affiliates earn $120 per referral. In addition, you will receive a 60-day cookie. So spread the word to make extra cash and earn more!
39. Social Warfare
Social Warfare is a popular WordPress social sharing plugin. Affiliates get a 30% commission on every sale they refer.
37. Sendowl
Sendowl is a social media management tool. Refer customers to Sendowl and earn 20% recurring commissions.
35. SamCart
SamCart is a tool that helps you add a shopping cart to your website. As an affiliate, you receive 30% recurring monthly commissions. The payout period is every 30 days.
40. Grammarly
ShareASale runs the Grammarly affiliate program. You can also join the program through the C.J. Affiliate network. Sign up a new free customer and earn $0.20. You get $20 if they sign up for a premium plan. In addition, you get a 90-day refund cookie and bonuses for top performers.
41. 99Designs
99Designs is a powerful design platform for bloggers. For every customer that you convert to 99Designs, you'll earn $55. They have over 5,500 affiliates and have paid out $250,000.
42. Picmonkey
ShareASale runs the PicMonkey affiliate program. They pay 50% in sales commissions and offer a 30-day return cookie.
43. FlexOffers Affiliate Platform
FlexOffers, a popular affiliate program similar to Panthera, has thrived for over a decade and has ranked the top 10 most successful affiliate programs.
There are many products you can promote, no matter what niche you choose. Its dashboard is very user-friendly. It allows you to track how many impressions and traffic your offers are getting, as well as how much money you make every day.
FlexOffers' recent partnership with Payoneer has made it easy to access funds. That is excellent news for anyone who lives outside of the United States.
These are the products that I recommend on FlexOffers.
Booking.com
Paribus
Groupon.com
Udemy
LendingClub
44. ShareASale
With over 3,900 merchants verified, ShareASale ranks among the top affiliate marketing networks. It's been in operation for more than 17 years. As a result, it boasts high-profile merchants and a strong reputation.
The merchant will determine the amount of sales commission, but it can range between 3% and 20% of the total amount. The lead commission is $0.01-$200.
WPEngine is a merchant that pays up to $200 per sale. Each month, payments are sent via Direct Deposit or Check on the 20th.
You are still in the right place, regardless of whether your niche is fashion or cooking. Many affiliate programs will suit your audience. ShareASale is an excellent option for you to get involved.
45. MaxBounty
MaxBounty, a well-known cost-per-action (C.P.A.) affiliate marketing website, connects publishers (affiliates) with advertisers just like we've seen in ShareASale and FlexOffers.
They've been operating since 2003, and they offer many products you can promote. If you're a beginner blogger, I recommend you start with the surveys. These are very easy to promote, and they will make you money quickly.
The application process for MaxBounty's affiliate program was quite strict. However, you can complete the application form accurately.
One of their affiliate managers may set you up for a Skype chat to answer questions about the niche you were interested in, traffic sources, and how you plan to use other things.
You can start promoting affiliate products almost immediately after your account is approved.
46. Digistore24
Digistore24 is a full-service online sales platform for vendors and publishers.  There are tons of products in the marketplace to choose from as an affiliate.
And also, it allows vendors to sell digital products, services, events, and seminars.
The cookie period is 180 days, which means you get paid if your referral purchases within those days.
How To Join
Register at Digistore24
Wait for the approval
Visit the marketplace to select products to promote
Get your promotional link
Earn up to 70% commission when you make a purchase
Digistore24 provides many payment options; bank transfer, Paypal, Visa, and Mastercard.
47. Impact Radius
This affiliate marketing company connects publishers and advertisers, just like the other companies I mentioned.
Hostgator and 99Designs recognize that tracking sales and affiliate commissions can be tricky, so they seek third-party help. Impact Radius is here to help.
Impact Radius offers a multi-layered tracking system that brings in 17% more income than standard cookie systems.
48. LearnDash
LearnDash is the WordPress plugin you need to make your online course a success.
Partner status allows you to earn 35% commissions for the initial purchase as well as upgrades. The maximum commission is $115 per sale. It is a must-have for WordPress affiliates.
48. Drip
Drip is an excellent choice if you have an audience that you can convert into customers. You also get a 30% recurring commission. Drip is an email service-providing platform that is mainly for marketers.
However, others still use it. For example, drip has a high R.O.I., but you need to reach C.M.O.s/marketers to get it to work.
You can find their most prominent customers in Bigtree Media and Hawke Media.
50. Elementor
One of the easiest drag and drop WordPress page builders is elementor. The affiliate pays a commission of 5% per sale.
Payment is made through Paypal minimum of $200 and 30 days cookie period.
51. Teachable Affiliate Marketing Program
Teachable is an innovative digital learning platform. It allows users to create, sell, and teach online courses. Users can also manage student data and control their brand.
Its most outstanding feature is its highly-paid affiliate program. As an affiliate with Teachable, you will be eligible for a 30% recurring commission and a 90-day cookie.
Teachable allows for easy-going marketing using unique codes that you can easily place on any page. The product converts well, and it offers a 14-day free trial.
The affiliate program is the best choice for marketers looking to reach a wide range of verticals. You have access to many products, and you can choose where you want to focus your efforts.
You will also have your affiliate manager optimize traffic and create unique bonus programs to maximize your income potential. It's also easy to use, making it a favorite for global affiliate marketers.
52. GiddyUp
GiddyUp is a great place to connect with valuable brands that can make a profit. GiddyUp is all in Partner Marketing. That is their method of creating a performance-based partnership.
You can expect great results for your brand and yourself. To be accepted as an affiliate and begin to reap the benefits, they focus on quality. I recommend it to anyone who fits the criteria.
53. eBay Partner Network
The affiliate program is an excellent way for you to tap into the vast network of eBay. You can advertise eBay products via social media, your website or blog, and earn commissions for every product sold through your link.
It is easy to sign up for the eBay Partner Network. There are many exciting products available to promote, including daily deals and popular trends.
54. Rakuten
Coursera is one of the best ways to promote Udemy's online courses. You can join this platform through the Rakuten affiliate network.
Rakuten, which has been voted the #1 affiliate network for eight consecutive years, is an excellent choice for the product range.
You can earn a 5 to 50% commission depending on the category of product you promote.
55. FATJOE
FATJOE is a popular content creation and link-building agency.
It pays you 10% for every sale. This 10% commission is a recurring one that will last for the life of the client.
56. Awin
Awin offers excellent products and commissions per sale, with H.P., Under Armour, and Etsy.
Keep in mind that they charge $5 at signup for a screening fee. But once you get approval, you'll receive your $5 back.
57. Expertnaire
If you are looking for the most effective affiliate marketing platform in Nigeria, expertnaire is the one.
There are many products to choose from, and the commission you get depends on the product you select.
Though it's not free to join, there's an annual membership fee of N10,000, but if you put in the work, you make money back in time.
Some of the top products are
Conclusion
Affiliate marketing can be an excellent way to make a lot of money once you have a lot of traffic to your site.
But before you choose any products, do your research and only select top quality and high benefit to your audience.
If you have any questions, share them with us in the comment.
And if you're looking for the best way to start a profitable online business, this course is for you; get started today.
muslimah@introbusinesses.com