Welcome to my Cloudways Review.
Choosing between different options can be overwhelming if you're getting started on cloud hosting.
However, your top priority should be the platform's performance and reliability when building your website.
With so many choices out there, it can be tough to find a suitable host; you want something that matches your needs, is secure and safe, works well with WordPress, and loads quickly.
If you're looking for a cloud hosting platform that won't mess around with your site and is great for customization and freedom, Cloudways is perfect.
It's super-powerful and flexible, making it a favorite among developers.
The cloud hosting platform also has excellent 24//365 customer support. So, I will now walk you through what Cloudways is about, the benefits, and why it is a top-notch option for your website.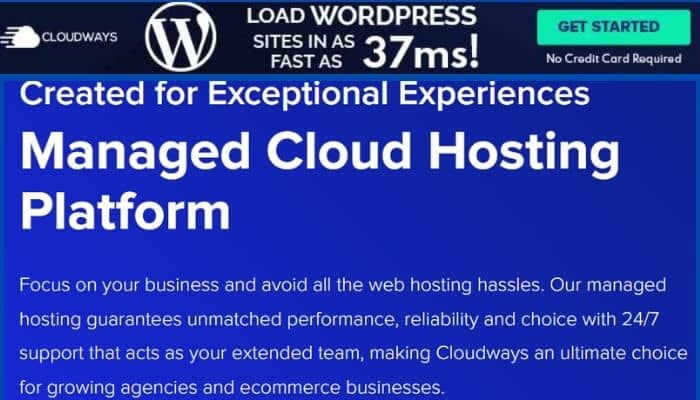 Cloudways Review Overview
Service Name: Cloudways
Website: www.cloudways.com
Founders: Aaqib Gadit and Uzair Gadit
Category: Cloud hosting
Pros: Free trial, excellent uptime, free SSL certificate, free migration
Cons: No email hosting and domain registration
Price: Starts at $10/mo
Cloudways is a platform designed for small to medium-sized businesses looking for powerful and high-quality cloud hosting services to make their site fly.
If you're looking for something simple and have high-level needs, go with Cloudways.
In addition, the platform offers a variety of features designed to make life easier for website owners and developers. These include free SSL certificates, migration, real-time monitoring, firewall protection, automatic backups, fast load speed, etc.
The company also provides a 99.99% uptime guarantee, 24/7 support, and security features at no extra cost.
Who Can Use Cloudways?
Cloudways is for anyone looking to build a fast and responsive website with massive traffic and page views. It's also a good option for eCommerce websites.
However, it could be overwhelming for non-techy because you need some expertise to use the platform.
Is Cloudways Worth It Anymore?
Yes, Absolutely. Cloudways offers enterprise-level hosting services at competitive pricing. They also provide customers with the best in class customer service, performance, and uptime, all with the security of knowing they are hosted on a reliable infrastructure.
Moreover, Cloudways offers you a variety of options to choose from when it comes to server location and operating system. In addition, the company provides one-click installs for WordPress, Magento, Drupal, PrestaShop, Joomla!, WooCommerce, and more.
Cloudways Pros and Cons
Pros
Free SSL certificates for all the sites hosted on their servers
Excellent uptime at 99.99%
One-click installation of WordPress, Drupal, Magento, and Joomla.
An easy-to-use interface with live chat support
Free website migration
Fast servers speed
Free 3-day trial to test run the software
Variety of hosting services to choose
Great value for money
Cons
No email hosting
No domain registration
It can be overwhelming for non-techy people to handle
How To get started With Cloudways?
Cloudways provides five hosting services; Digital Ocean, Vultr, Linode, Amazon web services, and Google cloud. Follow the following steps to build your website in minutes.
Step 1: Visit Cloudways website
Step 2: Sign up by inputting the necessary details
Step 3: Choose your application software; WordPress, Joomla, Magento, WooCommerce
Step 4: Click on launch now, and Cloudway's one-click installation will build your website in minutes
However, remember that Cloudways does not offer domain registration services. Hence, you need to buy one before signing up with the platform.
What Are The Benefits Of Using Cloudways?
Free SSL certificates
You get access to free in-built encrypt SSL certificates to improve your website security and show visitors your site is safe for transactions.
Accessibility
The site's user interface makes it very easy to manage both the server and the clients, so you won't have to worry about confusing control panels or figuring out how everything works. It's straightforward and fast to get started, and you can have your website installed in a few minutes. Moreover, Cloudways has many data centers worldwide, including the United States, France, United Kingdom, Germany, Australia, Japan, Netherlands.
Free Migration
If you want to move your website from anywhere to Cloudways, you don't need to pay any money. The process is straightforward and accessible for all plans.
Excellent Support
There's 24/7/365 support through live chat, knowledge base resources, and training materials to attend to any issue you may have while building your site. You can access chat support from the dashboard through the "Need a hand" box.
Free Trial
Cloudways offers a three-day free trial to check out the services. To access this feature, click on Start free button. Then, all you need is your name and email address.
Security
Cloudways ensure your site is up and running with no security issues through automatic backups, firewalls, and built security. Moreover, if your website is down, a copy of it is switched to restore immediately.
In addition, the Cloudways Bot improves the security of your WordPress website. It also protects against attacks like Denial of Service (DoS), brute force, malicious traffic, and bad bots.
Performance
Cloudways is fast and affordable, with an excellent uptime of 99.99%. If you want to boost your website speed, choose Vultr or Linode. However, it costs more but, of course, is worth the money spent.
Unlimited websites
While some hosting services pegged the number of sites you can build, Cloudways gives you access to create unlimited websites.
Pay As You Go
This feature is one I admire with Cloudways. You only pay for the resources you use monthly or even hourly.
Dedicated Firewalls
Cloudways keeps your site safe by identifying and blocking malicious traffic and intruders.
What You May Not Like About Cloudways
No email hosting
Cloudways does not offer email services. However, you can access the feature through one of their partner, Rackspace, at $1/email for a month.
It may not be the best option as it can become expensive in the long term.
No domain registration
Cloudways does not offer domain name service, so you need to buy from GoDaddy, NameCheap, DreamHost, or even Wealthy Affiliate.
What Are Cloudways Plans and pricing?
Cloudways offers affordable pricing options where you pay only for the resources you use (pay as you go).
Each plan has excellent features such as a free SSL certificate, automatic backups, unlimited application installation, real-time monitoring, etc.
The cost of hosting services varies depending on your chosen plan, with the least starting at $10/month.
Digital Ocean
It starts at $10/month with a three-day free trial. You get access to 1GB RAM, 25GB storage, 1TB transfer, and one core processor.
Linode
It starts at $12/month with a three-day free trial and1GB of RAM, 32GB storage, 1TB transfer, and one core processor.
Vultr
This plan starts at $13/month, and you get a three-day free trial and 1GB RAM, 25GB storage,1TB transfer, and one core processor.
Amazon Web Services
Starts at $36.51/month with 2GB RAM, 2 vCPU, 20GB storage and 2GB transfer.
However, this plan has no free trial as you need to upgrade your account to access it. And it comes with offsite backup storage charges at $0.033/GB per server.
Google Cloud
Starts $33.18/month with 1.70GB, 1 vCPU, 2OGB and 2GB transfer.
There's no free trial; you need to upgrade your account to access this plan. Also, it has an additional cost of $0.033/GB for offsite backup storage per server.
What Are The Alternatives To Cloudways?
Cloudways Frequently Asked Questions
What is Cloudways?
Cloudways is an affordable, easy-to-use cloud hosting service that is great for beginners or even advanced customers.
Is Cloudways worth paying for?
Yes, Cloudways has an excellent performance, affordable, and is super fast for your website needs.
What are Cloudway's payment methods?
You can pay with a credit card, master card, American Express, Visa, and PayPal.
Does Clouways offer a free trial?
Yes, Cloudways offers a three-day free trial to test-run the services. After that, you don't even need a credit card to register.
What Cloud hosting services does Cloudways offer?
Cloudways provides five options: Digital Ocean, Vultr, Linode, Google Cloud, and Amazon web services.
Does Cloudways offer domain registration?
No, Cloudway does not provide you with a domain name. Instead, you register through Namecheap, GoDaddy, etc.
Is Cloudways suitable for WordPress websites?
Yes, Absolutely. Cloudways is one of the most popular options for WordPress users because they provide great features that make it easy to manage your site from anywhere in the world.
Cloudways Review – Final verdict
In summary, Cloudways manages servers for you. You can search their server directory to find one that meets your needs, set up your account and install the server you want on it, and then connect.
Their platform is free and easy to use. So, if you need one-off access or hands-on control over a cloud app or website, Cloudways has what you're looking for.
And if you have any questions, please leave them in the comment below.
SHARE THIS POST WITH YOUR FRIENDS!