Affiliate marketing and dropshipping are both great ways to start a business. They're low-cost, easy to start, and don't require inventory.
Affiliates can earn by selling products through their website or social media channels. At the same time, drop shippers provide fulfillment services for merchants who want to sell products without shipping them directly.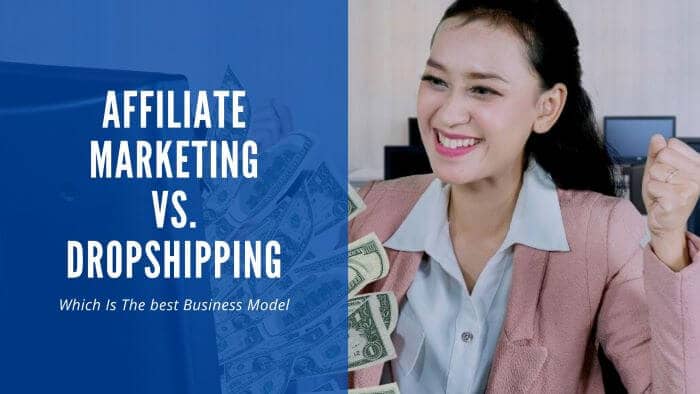 Research shows that the affiliate marketing industry will expand to $15.7 billion in 2024. At the same time, the global dropshipping market is predicted to be $301.11 billion in 2024.
It means there're massive opportunities for business in both industries. But which is better and more profitable? Is it even possible to make money off both?
Let's figure it out!
What is Affiliate Marketing?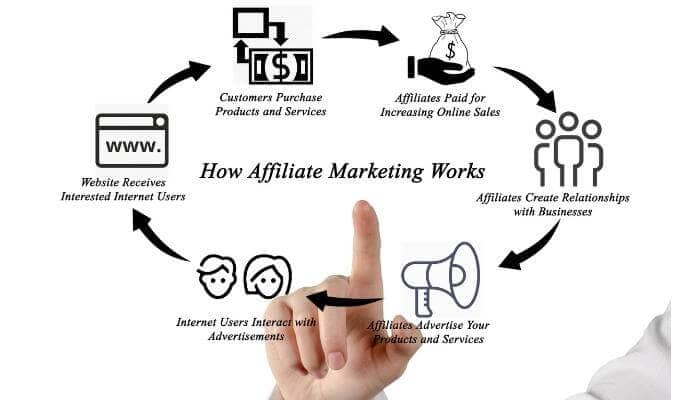 Affiliate marketing is a great way to earn money through the internet. You sign up for an affiliate program, promote a product, and when people buy through your link, you earn a commission.
For example, if you refer someone to Amazon, you get paid when they purchase.
Here's how it works
Choose your preferred niche
Sign up with an affiliate network
Use your affiliate link to promote the product
Customers click on the link and buy
You earn a commission for every sale
What Are The Benefits And Drawback Of Affiliate Marketing?
Affiliate marketing can be rewarding if you're willing to put in the time and effort. However, it requires some effort on your part.
Pros
Low startup cost
There are no startup fees involved in becoming an affiliate marketer or promoting products. You don't even need any technical skills or pay to join affiliate programs. All you need is a computer and an internet connection.
Flexibility
Affiliate marketing allows you to work from any location as long as you can access the internet and a computer.
High earning potentials
You can make more money from affiliate marketing by targeting a low, competitive niche and promoting it well.
No customer support
No need to stress about customer service. The merchant handles all product issues and attends to customer complaints and refunds.
No Special skills to start
You don't need any technical knowledge to start your affiliate marketing business. In addition, you don't even need a website to begin; you can promote products through social media like Instagram, Twitter, and Facebook.
No Inventory
In affiliate marketing, you don't have to create a product or ship any. Instead, the merchants take care of all that; you only need to promote already-made products to your audience.
Cons
Low-profit margin
If you don't promote high-quality products that people want, you may not make much money. The better the quality, the more likely people will buy them through your links.
Fixed Earning
Once you join an affiliate network or program, you already know how much you earn on each product, usually determined by the merchant. Therefore, the commission can be relatively low sometimes, and you have no power to influence it except for the high-income products where you can make more.
Delayed payments
There may be occasions when the merchant refuses to pay the affiliate or may even shut down the business, causing you to lose your earnings.
What is Dropshipping?
Dropshipping is a form of e-commerce where a retailer does not keep the products in stock. Instead, when a customer places an order, the supplier package and ships it directly to the customer.
So, here's how it works
The first step is to choose the store's inventory
Then set a price for your product
The customer makes an order and pays you
You send the order info to the manufacturer
The manufacturer ships the product directly to the customer
What Are the benefits And Drawbacks of Dropshipping?
Dropshipping is a fast-growing e-commerce model. It has many benefits, but there are also some drawbacks that you should watch before jumping in.
The primary benefit of dropshipping is that you don't have to hold inventory and pay for storage costs. You also don't need to worry about shipping or managing customer service issues because the supplier handles all these tasks.
Pros
Easy to set up
Setting up your online store is easy as you don't have to worry about warehousing, shipping, and handling the products. All you need to do is sign up with one of the dropshipping companies and start selling your products.
Low operational costs
Like affiliate marketing, dropshipping has low operational costs as you don't require any physical space for storage or inventory management.
In addition, there is no requirement for hiring employees to manage inventory, and packing orders, thus saving money on staffing costs. Instead, customers purchase the product directly from the supplier.
No upfront investment
You don't need to invest any money to get started in dropshipping. The companies provide all items at no cost to you.
High-profit potential
You have control over the price of the product. Thus, unlike affiliate marketing, where the commission is fixed and can be very low, you can buy and sell at a higher rate.
Easy access to payment
Unlike affiliate marketing, where you need a specific threshold to access your earnings, dropshipping provides immediate access to your money when the customer makes the order.
Low risk
in drop shipping, the stakes are minimal as you don't need to store or ship the products to customers. In addition, unlike affiliate marketing, you have access to your money immediately, where you need to meet a threshold.
Sustainable and Scalable
Once you start making sales, adding more products and increasing your sales volume is easy. In addition, dropshipping allows you to have your own website and can decide to sell it in the future.
Control
In drop shipping, you have control over the type of product you want to sell and the price.
Cons
Poor product delivery
Sometimes the product supplied can be of low quality. Thus, it requires constant monitoring and attention so you don't lose money on sales due to poor customer service or poor product delivery.
Customer support
You are in charge of providing customer service and resolving any issues with the order made. If you can't do this on your own, you need to get personnel to take care of it, which can be expensive.
It can be highly competitive.
There's high competition, except you choose a low, competitive niche with high margins from the start.
If you select a field that's already saturated, you may not earn as much as you would in a less competitive niche.
Shipping delay
On some occasions, there may be some delay by the manufacturer in supplying the product to the customer. This may cause you to lose the customer to another retailer.
Invest in Ads
You need to budget extra costs for ads on Facebook and likes to succeed with the business. This may not work for a lot of people, especially beginners.
Affiliate Marketing vs. Dropshipping – Any similarity?
You don't have to worry about inventory management or shipping in affiliate marketing. All you need is to send visitors to the merchant's website.
Similarly, you don't need to worry about shipping or returns in dropshipping because the manufacturer handles it.
In addition,
Both of them offer high potential earnings
They are easy to set up
Both are low-risk business
You don't need a huge investment to start
Affiliate Marketing vs. Dropshipping – What are the Differences?
You don't own the products in dropshipping, so when someone orders an item from your store, they'll receive it directly from the manufacturer. With affiliate marketing, on the other hand, you promote other people's products while earning commissions when someone purchases those products through your link.
As an affiliate, customers buy products from the merchant's website through your link, unlike drop shipping, where you sell products from your website and the manufacturer ships them.
With drop shipping, you have access to higher profit as you get to determine the product's price. However, you have no control over the price as an affiliate.
You can access your payment immediately after a customer makes an order in dropshipping. Still, in affiliate marketing, there are maybe delays as you need to meet a specific threshold before receiving your commission in affiliate marketing.
It's not compulsory to have a website before promoting affiliate products; you can start on social media. But for dropshipping, you need to set up a store.
Affiliate Marketing vs. Dropshipping – which works better?
It depends on your personal preference and sometimes experiences. Both methods have pros and cons but are viable businesses that can be incredibly profitable if done right.
However, in dropshipping, you determine the price and are thus liable to higher profit earning.
Unlike affiliate marketing, you have no control over the price but receive an agreed commission from the merchant.
But most people prefer affiliate marketing because it's easy to get started. While dropshipping requires more work and cost to start though more profitable.
Affiliate Marketing vs. Dropshipping – which is more profitable?
Affiliate marketing is a great business model if you have an audience. However, if you have no audience, dropshipping is a good option.
But, if you're looking for a more sustainable business model, affiliate marketing may be a better option. You can build an engaged audience and earn recurring commissions from their purchases.
However, dropshipping seems to be more profitable in the end as you have higher profit margins than affiliate marketing.
Affiliate Marketing vs. Dropshipping – Final Thoughts
Dropshipping and affiliate marketing are two popular options if you want to start a business online.
All in all, both have the potential to be quite profitable and sustainable if you follow the right strategies. Of course, both have their pros and cons, but ultimately it depends on what suits your interest.
The main difference between affiliate marketing and dropshipping is that you sell other's people products and services in the former. And the in the latter, you are selling your own product.
However, if you are just starting, I suggest beginning with affiliate marketing. It's easier and requires less work and cost.
Join this free training to start your affiliate marketing business.
If you have any questions or comments, please drop them below.