Choosing a great host for your website can be an overwhelming process. A lot goes into it: price, reliability, speed, support, and more.
AccuWeb Hosting has proved to be an excellent choice to use after 19years in the hosting business. The company has consistently ranked as one of the fastest, affordable, and reliable web hosts.
So, if you want a reliable hosting service that provides decent security, sufficient bandwidth, server storage space, and quick loading speed, AccuWeb hosting is a good choice.
However, I will share the key features, pros and cons, and pricing of AccuWeb Hosting. You can then decide if it's the best fit for your business.
Let's get started!
Disclosure, Some of the links in this article are affiliate, which means I may earn a commission if you decide to purchase through the link at no extra cost to you. For more information, please read my disclosure policy.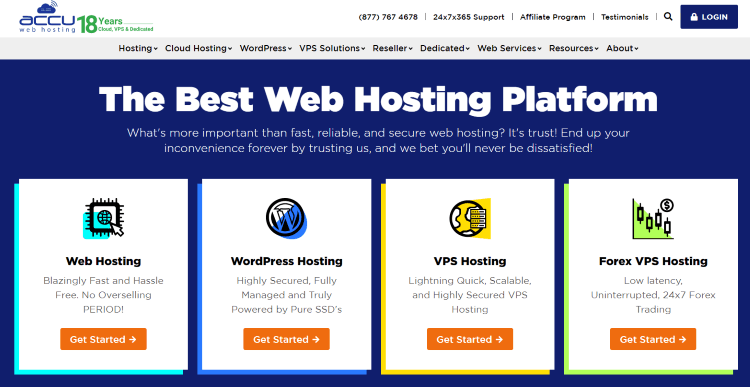 AccuWeb Hosting Review
Overview
One of the most secure and oldest web hosting in the market for over 19 years is AccuWeb Hosting.
It's perfect for any business that needs simple yet effective web hosting with exceptional customer support.
In addition, AccuWeb Hosting is recommended by reputable companies like PCMag, Microsoft, TechRadar, and more.
Furthermore, the customer support is top-notch services with 24x7x365 support. It, in addition, provides 99.9% uptime guarantee, SSD drives, bandwidth and space, unlimited domain hosting, Windows and Linux hosting plans, domain privacy, free site builder, and many more features.
AccuWeb Hosting offers a wide range of hosting services including, but not limited to shared hosting, dedicated hosting, reseller hosting, WordPress hosting, VPS hosting, and more.
AccuWeb Hosting Services; Plans And Pricing
This company has been providing reliable and trusted hosting services for over a decade. They have a wide range of hosting packages for you to choose from, which include the following:
Shared Hosting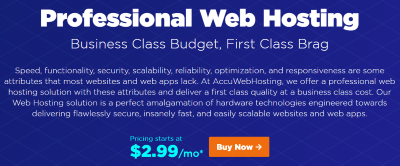 AccuWeb shared hosting is perfect for bloggers and small business owners who want to start their website or blog with a low budget.
Shared Hosting is a fast and affordable way to host your website with other sites on the same server.
You can host multiple websites with free domain, SSL certificate, 10GB storage, hundreds of email accounts, MySQL/MsSQL software, webmail service.
Pricing – personal plan starts at $2.99/mo
Dedicated Hosting

AccuWeb Hosting offers dedicated server packages perfect for large-scale applications, high-traffic websites, and demanding users who require an enterprise-level solution.
Thus, dedicated hosting is the best plan if you have a website that generates a high volume of traffic, heavy files, or highly sensitive data.
It means you have complete control of your server and can install software of your choice, which provides more security and speed.
Shared and Dedicated Hosting, what's the difference?
Shared hosting is when many websites are hosted on one server machine, which means all the websites share the same bandwidth and storage space. On the other hand, dedicated hosting means that one website or service runs on its own server machine.
VPS Hosting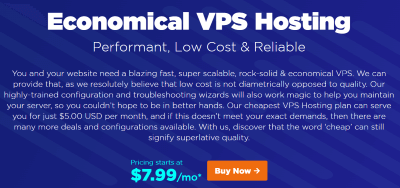 AccuWeb Hosting offers VPS hosting services providing weekly backups, unlimited websites, 1GB RAM, 20GB storage, 150 Bandwidth, and more.
Pricing – plan starts at $7.99/mo
Fully Managed WordPress Hosting

AccuWeb WordPress hosting comes with automatic updates and protection. You get access to 1TB bandwidth, 20GB storage space, 150 email accounts, free SSL certificate, easy WordPress integration, unlimited websites, preinstalled SEO and cache plugins, daily backups, 75,000 monthly website visitors, domain-specific email addresses, and more.
Pricing – starts at $9.99
Reseller Web Hosting
If you're interested in the business of reselling hosting services, give AccuWeb Linux and Windows and Windows VPS reseller hosting packages a try.
Cloud Web Hosting
You can host your website with additional resources from multiple virtual servers on AccuWeb Hosting.
AccuWeb Free Hosting 
There's a free hosting plan for students of computer and system engineering. After applying, you get access to the following till you become a graduate
2GB of SSD storage
25 free email addresses
30 GB of bandwidth
CloudLinux and Apache webserver.
AccuWeb also has a WooCommerce plan with free domain name registration for the first year.
AccuWeb Hosting Benefits And Drawbacks
Pros
Speed – The servers used by AccuWeb are among the fastest available today. It is well-known for its customer service, flexibility, and top-rated uptime (99.9%). It means that any site hosted on them will be swift.
Security – When it comes to safety, you can't compromise about anything because this is what makes your site safe for both your visitors and yourself. AccuWeb Hosting guarantees a high level of security by constantly monitoring all its servers.
AccuWeb Hosting has an in-built windows firewall to counter suspicious attacks. It also partners with Cloudflare to protect websites on its servers from DDoS attacks. This way, you can sleep peacefully knowing that your site is safe from hackers or spammers who might want to harm it in any way.
Affordable – Their prices are very reasonable, with a wide range of plans to choose from based on your business needs and budget.
Professional email address – AccuWeb hosting allow you to create a business email address to give your brand a professional look.
Money-back guarantee – there's a 30-day money-back guarantee across all plans.
Multiple hosting locations – you can pick your preferred location from their data centers; USA, France, Canada, UK, Australia, Singapore, India, Poland, Netherlands, Germany, South Korea, Japan.
Free SSL certificate and free migration.
Customer support – AccuWeb Hosting has excellent customer service 24/7/365 to serve you better through live chat, email, phone, and tickets.
In addition, there are knowledge base articles to help you through the process of setting up your website. And, if you ever have a problem or need help, I can assure you that someone will be there to assist you.
Cons
No monthly hosting plan
Mandatory review to use the free plan
It could be overwhelming to choose from the various programs.
AccuWeb Hosting Affiliate Program
Suppose you are looking for one of the best high-paying affiliate programs. In that case, AccuWeb hosting is a good option.
You can earn a commission of $25 up to $200 when someone signs up through your affiliate link. Also, you get a PPC commission for every referral to their website.
They also provide various marketing materials and training to help affiliate with the promotion. In addition, you can access banners, Text ads, Text links, and email links.
AccuWeb affiliate program has an extended cookie of 90 days. Good enough, it's free to join, and there's no earning limit.
How To Register With AccuWeb Hosting?
Anyone who wants to start a successful online business can join free.
Visit AccuWeb Hosting website.
Create an account
Fill in your name, email address, and mobile number (you can sign up with Google)
Receive a message with your login details
Set up your account
Choose your preferred hosting plan.
Register your domain
Then make the payment (you can pay with Paypal)
AccuWeb hosting sets up your website.
What Are The Best AccuWeb Hosting Alternatives?
Bluehost 
The best way to use a website is to make it as user-friendly as possible. That's what Bluehost offers.
This company makes it easy for businesses to build an online presence that's attractive and easy to navigate.
Bluehost provides domain registration, email accounts, security, and customer support.
With Bluehost's world-class service, your website will always be up and running without any downtime while providing you with the resources to grow.
Benefits And Drawbacks of Bluehost
Pros
Easy to set up – it's easy to set up and use on any device, which means that you can get started at any time without having to worry about compatibility issues.
Free domain – Bluehost gives you a free domain name when you sign up with them. This makes setting up your site dramatically easier; all you need is to type in your new domain name. You can quickly transfer your existing domain to Bluehost as well if you're currently using another web host.
Great Support – 24/7 customer support is available via phone, chat, and email.
Affordable – While other hosting providers out there offer more features, they often cost more as well. However, Bluehost offers a variety of different plans at very affordable prices.
 It, in addition, offers free CDN and free SSL certificates.
Good uptime 99.99%
Cons
Data centers exist only in the US
Upsells
Domain renewal price is high
Limited email accounts and storage for the basic plan
Bluehost Plans And Pricing
The company offers three packages for different needs: basic, plus, and professional.
Shared Hosting's basic plan starts at $2.95 / month.
Managed WordPress Hosting starts at $29.99 / month
VPS Hosting starts at $29.99 / month
Dedicated Hosting – standard plan starts at $149.99 / month
Cloud Hosting – you can use multiple cloud servers and switch to another when there's high traffic.
Overall, this is an excellent choice for individuals who want to create an attractive website without spending much money.
Wealthy Affiliate Hosting Services
With over 2 million users worldwide, Wealthy Affiliate provides top-rated shared hosting services to its customers at an affordable price.
This leading web hosting provider offers access to everything you need to create a successful website without the high cost or hassle of doing it yourself. It also provides domain registration, unlimited email accounts, SSL certificates, daily backups, and more.
In addition, you don't need to worry about server downtime with this company as they are available 24/7/365.
Wealthy Affiliate Hosting has two plans that you can choose from, depending on your need. They even have free plans available if you want to test drive their services before deciding if it's the best fit for your business Por not.
 Speed Test Performance
Here's a result of the speed test of a website hosted with Wealthy Affiliate.

Wealthy Affiliate Plans and Pricing
Wealthy Affiliate offers three hosting plans:
Starter (free)
The starter plan is a shared hosting plan with limited resources. I wouldn't recommend this plan to anyone except absolute beginners.
Premium ($49/month) – $19 for the first month
The premium plan offers unlimited resources and support from the WA team. It's an excellent option for people serious about building an online business.
Premium Plus ($99/month).
Premium Plus plan offers everything you get in the Premium plan plus priority support and access to all courses, including the newest ones added to WA.
However, premium and premium plus prices are not limited to website hosting but also includes step-by-step training to help you build your online business from scratch. In addition, you get unlimited email accounts, 10 websites or more, 10 domains, 30GB space, 500,000 monthly visitors, daily backups, website feedback, and more.
However, both premium plans come with an SSL certificate and daily backups (which provides better security to your customers).
Benefits And Drawback Of Wealthy Affiliate
Pros
Tried and Tested – Wealthy Affiliate is a tried and tested service provider that has been in the hosting business for many years. In addition, a team of experts is always available to give you any help or support you might need. So if you have any technical issues, they will be able to help you with just about anything you need.
High Quality – The quality of service that you will receive at Wealthy Affiliate is second to none. The main reason many people choose to host their websites here. You don't have to worry about your website because everything has been built to ensure that it runs as smoothly as possible.
Affordable – If you're looking for a great web hosting company, they must be affordable as well, and Wealthy Affiliate ticks all of the boxes here.
Build Your Business – Besides a top-rated hosting service, you also get step-by-step training to build your online business from scratch.
No upsells – You get exactly what you need without paying for extra features that you might not need or use.
Free Site Migration – When you sign up with Wealthy Affiliate, they will migrate your site over from an existing host for free
Good Selection of Features – This hosting service has all the features you need to build an attractive website.
Customer Support – One of the most popular features is the live chat customer service available 24/7 to all clients. There are also tickets and email support to ensure that clients will never have any downtime with their websites.
Monthly Plan – Wealthy Affiliate provides customers with a flexible monthly plan and has many features.
Easy to Use – The interface is easy enough for beginners to use and understand. It's simple to add a new domain or even host multiple sites.
Excellent Community Support – You can learn from successful entrepreneurs who share their experience and expert knowledge every day on the forum.
Cons
No refund
Some people get discouraged by the ranking system.
Cloudways
If you want a platform that allows you to manage your hosting, security, and database needs in one place, Cloudways is a good choice.
In addition, it's one of the most secure and popular hosting services available in the market due to its excellent features and remarkable performance at a reasonable price.
Cloudways Plans and Pricing
The standard plan starts at $10/month
The premium plan starts at $12/month
Benefits And Drawbacks of Cloudways
Pros
Free SSL certificate, free migration, and free trial
Host unlimited applications on any plan
Cloudways servers are one of the best; they are affordable, scalable, and reliable.
24/7/365 customer support
It also offers API integration to easily integrate their applications with an API or API keys if they require API access to install plugins.
With the help of the Cloudways team, you can host your website with the least hassle possible.
Pay as you go billing – Pay for only the resources you use.
Cons
It could be overwhelming to set up.
Limited support for the basic plan
HostGator
Another leading web hosting solution for small, medium-sized businesses and personal websites is HostGator. They offer shared, reseller, VPS, and dedicated server plan on their website.
HostGator Plans And Pricing
WordPress hosting starts at $5.95/mo
VPS hosting starts at $23.95/mo
Dedicated servers start at $89.98/mo
Shared hosting starts at $2.75/mo
Cloud hosting starts at $4.95/mo
Reseller hostings start at $19.95/mo
Windows hosting – personal $4.76/mo
Gator Website Builder – $3.84
Benefits And Drawbacks Of Hostgator
Pros
Easy to use – HostGator provides a drag-and-drop interface for building simple or complex pages with just a few clicks without any HTML or coding skills necessary.
Customer Support – HostGator provides customer service 24/7, so you can always contact them if you ever need any help.
Affordable – HostGator is a perfect hosting provider for small to medium businesses because they provide cheap hosting with high quality. They offer many features at a competitive price.
Another benefit is that you get full root access for your server, making it easy to troubleshoot any issues with your website.
45-day moneyback guarantee
Free site migration, unlimited domains.
Great uptime 99.9%
Cons
Pay extra fees for backups, email, etc.
Customer support is not 24/7 and doesn't offer phone or chat support.
DreamHost
Here's another popular hosting company among small business owners and bloggers alike.
DreamHost has been providing affordable hosting solutions for years now. It offers a variety of products and services to its customers, including Shared Hosting, Domain Name Registrations, and more.
DreamHost Plans And Pricing
there are many hosting plans;
WooCommerce hosting starts at $16.95
Shared hosting – shared starter starts at $2.59/mo
WordPress hosting basic $1.99/mo
VPS Hosting starts at $13.75/mo
Benefits And Drawbacks of DreamHost
Pros
Affordable – DreamHost provides domain name registration and website building tools at affordable prices with 24/7 support services.
Customer support – There's 24/7 live chat.
Free WordPress migration
Access to unlimited websites
Cons
Slow support response time
There are restrictions on what you can host on their servers.
SiteGround
One of the most popular hosting services in the market is SiteGround. It offers a wide range of hosting services, including shared, dedicated, and reseller hosting services. 
In addition, SiteGround provides reliable hosting solutions to bloggers, startups, and established companies.
SitGround Plans And Pricing
Shared hosting starts at $3.99
WooCommerce $3.99/mo
Cloud hosting starts at $80/mo
WordPress Optimized Hosting starts at $14.99/mo
Reseller hosting starts at $6.69/mo
Benefits And Drawbacks of SiteGround
Pros
Affordable – With SiteGround's extensive features and competitive prices, they are a popular choice for novice and experienced website owners alike.
You get free site builder, free SSL certificates.
24/7 Support – They offer one of the best customer support in the industry through phone, chat, and email.
Easy to use – SiteGround has an easy-to-use interface that allows you to manage your website just like you would manage your email or word document.
Quick server response time – Their servers run on solid-state disks, ensuring faster loading times for their customers
Multiple Data Centres – SiteGround has data centers in the US, London, Singapore, Sydney. Hence, you have a choice to pick a preferable location close to you.
Guarantee – SiteGround offers 30-day money-back guarantee
In addition, SiteGround provides automatic updates, daily backups, free migration, free SSL certificates, and more.
Cons
High renewal price
Limited file space on the packages
Final Verdict – AccuWeb Hosting Review
Accuweb is an excellent web hosting and will suit the needs of most users, regardless of whether you're looking for shared, reseller, or dedicated web hosting. You will get your money's worth with this company's services.
There's no denying that the web hosting services at Accuweb Hosting is a good deal. Their plans are very affordable, and they come with many features. However, there are still other factors you should consider before signing up for a plan.
Overall we recommend AccuWeb Hosting to anyone looking for a quality and affordable web hosting service.
Thank you for reading!
And if you have any questions, please drop them in the comments.
SHARE THIS POST WITH YOUR FRIENDS!