72IG Implementation Program is a training course by digital marketing expert Toyin Omotoso teaching people how to earn extra income with WhatsApp marketing, email marketing, and PPC traffic.
In addition, there are many video training modules and materials suitable for beginners.
So, welcome to my 72IG Implementation Program Review
If you have been following the make-money-online business in Nigeria, you would have heard of Toyin Omotosho and his 72IG Implementation Program.
But you are here because you are unsure if this course is a scam or legit.
While researching digital marketing, I came upon this course and registered for the course. I also did more research to bring up this article.
So in this review, you will know the facts about the program, how it works, the benefits, and many more.
72IG Implementation Program Review
Overview
Product: 72IG Implementation Program
Product Creator: Toyin Omotosho
Type: Affiliate Marketing Course
Niche: Make money online
Price: N50,000 ($120)
Recommended: Yes
What Is 72IG Implementation Program All About?
72IG is a step-by-step training program that teaches how to sell products online like a Pro using Email marketing and PPC traffic.
Initially, the course was done through website and Facebook ads. But when Toyin Omotoso discovered that people were spending much money to get started, he redesigned it.
Now, it's possible to use WhatsApp marketing to generate steady income.
Who Is Toyin Omotoso?

Toyin Omotoso is a digital marketing guru who started his career over ten years ago and has trained thousands of students in Nigeria to make money online.
He discovered that affiliate marketing is the most effective way for beginners to make money online. So, he created an online course called 72IG in February 2019.
Because the scheme is new to most Nigerians, he generated over 9 million naira in a year.
After that, he introduced it to a few people and grew into a full-blown business.
Toyin is well known on Twitter, with over 60,000 followers and 17,000 tweets.
Frequently, he tweets about making money online and entrepreneurship.
Is 72IG Implementation Program Legit?
People are asking whether the 72IG Implementation Program is legit or not.
The 72IG Implementation Program is not a scam. It is a legitimate program that teaches how to sell products online like a Pro using Email marketing and PPC traffic.
In addition, you can check out the customer reviews here, mainly from Twitter and Facebook.
You can go through the step-by-step training to get good digital marketing skills and get paid for promoting the product.
How Does 72IG Implementation Program Works?
72IG implementation program has many training video modules and materials showing how to effectively choose products and recommend them to those who need them.
And when any buys through your unique affiliate link, you earn 50% commission. In addition, it teaches digital marketing skills to get the best result out of your business.
What Are The Key Benefits Of 72IG Implementation Programs?
One – WhatsApp Income Generator
Module 1
Lesson 1: Introduction
Lesson 2: Understanding the expertnaire system
Lesson 3: Picking the product to promote, understanding the potential buyer
Module 2
Lesson 1: Introduction to WhatsApp sales funnel
Lesson2: Promoting product to your contacts
Lesson 3: How Toyin makes 25 million a year
Lesson 4: Promoting to people, not in your connection.
Lesson 5: Putting on a good WhatsApp status
Lesson 6: Creating WhatsApp links
Lesson 7: How to use WhatsApp autoresponder
Lesson 8: How to create webpages
Module 3
Lesson 1: Setting up WhatsApp office
Lesson 2: Getting traffic
Lesson 3: Generating income from Twitter
Lesson 4: Creating a simple funnel
Two – 72IG Implementation Program
This course is 12 days step-by-step training module on how to sell products online like a Pro using email marketing and PPC traffic.
Each day, there's a task ranging from product and market research, sales funnel, website building, Facebook ads, Instagram ads, and many more.
Three – One (1) year Expertnaire Affiliate Account free – usually cost N10,000. And 50% Affiliate Commission when you promote 72IG.
Four – Twitter Income Blueprint on how to make the most of the platform for marketing.
Five – WhatsApp campaigns for hot selling products on Expertnaire.
Six – Private Facebook Support Group where Toyin and his team attend to questions and resolve all issues.
Seven – Weekly Live Training – Toyin and his team organize three hours of live training every Wednesday to give his students extra support, ask questions, and resolve all issues.
In addition to all these are valuable bonuses.
How Much Does 72IG Implementation Program Cost?
The course is available for N50,000 now. Immediately you enroll, you have automatic access to all the training materials.
How Can You Promote Products On Expertnaire?
Purchase this program N50,000
Sign up with Expertnaire ( a year free membership)
Choose the product and any other one you want to promote from the marketplace
Set up your WhatsApp market
Follow the training to get prospects on social media
Then use the WhatsApp sales scripts to drive people to your product.
Who Is 72IG Implementation Program For?
This program is a product on Expertnaire, a Nigerian-based affiliate marketplace and thus mainly created for Nigerians, but anyone can benefit from it. As long as you are ready to put in the effort and time to make it work, the sky is your limit.
Beginners
Students
Graduates
Small business owners
Digital markets
Entrepreneurs
It's suitable for beginners because you don't need any technical skills to start, but you need to put in the effort and time to get a result.
Who Is the 72IG Implementation Program Not For?
However, this training program is not for anyone looking for a get-rich-quick scheme or MLM venture.
What Do You Need To Get Started With 72IG?
It would be best if you had either a smartphone or a laptop. In addition, you can market the products through WhatsApp if you don't have a website.
Though having a website is an added advantage in marketing.
Are People Really Making Money With 72IG Implementation Program?
Of course, some people have had success with the program, even as beginners.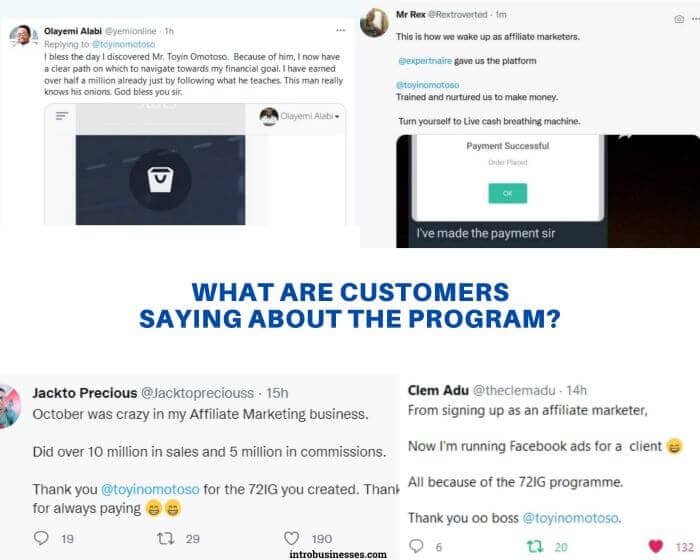 You can check out Read Customers Review Here.
Pros And Cons of 72IG Implementation Program
Pros
Beginner-friendly training courses
Step-by-step teaching methods
Regularly updated training videos
Private Facebook group
Weekly live training
Cons
Just like any online business, it takes time to see the result.
Final Words – 72IG Implementation Program
From my research and experience with this course, 72IG is not a scam.
Instead, it's a form of an affiliate program where a merchant pays an affiliate (you) a commission for sales you made.
It means you get paid an agreed amount when people buy the product through your unique affiliate link.
In addition, you also learn how to market the product using only your phone and Whatsapp.
Thank you for reading.
If you have any questions, drop them in the comment. Feel free to contact me, and I will get back to you as soon as possible.
muslimah@introbusinesses.com